Trails Programs
The Santa Fe Conservation Trust, the City of Santa Fe and Santa Fe County work together in the Trails Alliance of Santa Fe, to coordinate trail development and construction, organize volunteer trail work, identify and prioritize trail linkages, promote the trails, and provide the public with trail information and access through education programs and events. The Santa Fe Conservation Trust has been involved in the creation of the Dale Ball Trails, Atalaya Trail, Sun Mountain Community Trail, Santa Fe Rail Trail, the Spur Trail, La Tierra Trails, Arroyo Hondo Open Space Trails, La Piedra Trail and–with the Commonweal conservancy–the Galisteo Basin Preserve Trails.
The Grand Unified Santa Fe Trail Organization or "GUSTO" initiative is an effort to study and develop an integrated and unified trail system in and around the Santa Fe area.  GUSTO's vision is a "grand unified trail system" that allows non-motorized users to travel in a loop around the greater Santa Fe area as well as between the urban center and the periphery. The GUSTO initiative will lead community participation efforts to have a unified, sustainable trails system built around the entire metropolitan area by 2020.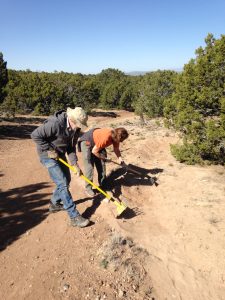 The Trails Program Manager arranged for five trail work days in La Tierra Trails in April, including several visits by members of the Trails Alliance of Santa Fe to address erosion issues west of Junctions 9, 10, and 11, a work day between Junctions 20 and 22...