Mar
29
Fri
GUSTO Open House

@ Railyard Park Community Room
Mar 29 @ 3:00 pm – 6:00 pm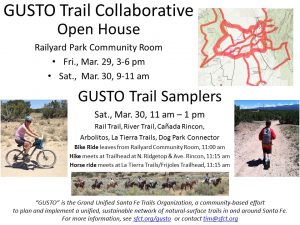 Click on image for full view of jpg file
Click here for Pdf version of flyer: GUSTO Open House and Sampler Mar 29_30.pdf
Mar
30
Sat
GUSTO Open House and Trail Sampler

@ Railyard Park Community Room
Mar 30 @ 9:00 am – 1:00 pm
Open House presentation and discussion of GUSTO trail planning at the Railyard Park Community Room will be followed by a Trail Sampler, by Foot, Bike, or Horse – a "sampling" of GUSTO-built connections to La Tierra Trails, including the Arbolitos Trail and the Dog Park Connector Trail
Bicycle Ride leaves Railyard Park Community at 1:00 pm
Hike meeting at N. Ridgetop & Ave. Rincon at 11:15
Horse Ride meeting at La Tierra Trails, Frijoles Trailhead at 11:15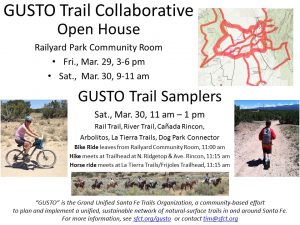 Click on image for full view of jpg file
Click here for Pdf version of flyer: GUSTO Open House and Sampler Mar 29_30.pdf
Apr
27
Sat
Happy Earth Day / Acequia and River Cruise

@ Railyard Park Community Room
Apr 27 @ 10:00 am – 12:00 pm
Join
this mellow community bicycle ride visiting trails, parks,  and mellow streets down the Acequia Madre and up the Santa Fe River.  The ride will begin and end at the Railyard Park, with a half-way break at Meow Wolf.
Join us at the Railyard Park Community Room at 10 am, or meet us at Meow Wolf at 11 am.  From Meow Wolf we will cruise up the River like New Mexican salmon and arrive at the Railyard just in time for the kick-off of Earth Day events.
We will meet at the Railyard Park Community Room (behind Site Santa Fe) at 10 am and pass through the wonderful Acequia Trail underpass on our way to Meow Wolf via Larragoite Park, Ashbaugh Park, and Maclovia Park.  From Meow Wolf we will head up the Santa Fe River via Rufina St. bike lanes and the now-longer-than-ever Santa Fe River Trail, passing by Frenchy's Field, Griego Park, and Alto Park before arriving back downtown for the Railyard Park's Earth Day Celebration.
Read about last year's "Happy Earth Day Cruise" here: https://sfct.org/happy-earth-day-cruise-april-21-2018
Earth Day Celebration

@ Railyard Park
Apr 27 @ 12:00 pm – 4:00 pm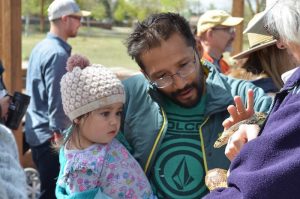 Enjoy a day in the sun at The Railyard Park, Santa Fe's award-winning green space, to celebrate the Earth and local biodiversity in honor of 2019's national Earth Day theme: Protect our Species! This free Earth Day event will feature games, interactive activities for kids, live music, parades, and animal ambassadors. Learn about the unique biodiversity of New Mexico and the ways you can help lower your impact in our community and on the planet as a whole.
The 2019 Earth Day Celebration in the Railyard Park will feature:
Performances will be powered by a solar trailer brought to you by SunPower by Positive Energy Solar
Wadaiko Taiko drummers
…more TBA!
Come party in the park for the 2019 Earth Day Celebration. Whether you bike, walk, skip or run..you won't want to miss this year's largest Earth Day Festival in Santa Fe!