Santa Fe Conservation Trust
---
2022 INSIDER TOURS
---
Ruins · Artifacts · Views · Historical Sites
Rare opportunities to explore archaeological and geological sites on private land.
---
THE TOURS
Tecolote Ranch
Saturday, June 25, 2022 • 8:45 AM – 5:00 PM
Due to the current forest fire, this tour is postponed until further notice.
Full-day tour near Las Vegas, NM
$250 per person, includes transportation & lunch,
registration opens May 16
Explore this 9,150-acre ranch where human history has left a unique set of footprints, with foreman Rowdy Robinson, archaeologist Steve Post and author James Blackshear.  Santa Fe Trail wagon wheel tracks and a wagon stop are still visible amid old rock ruins of 19th century settlements. Artifacts from ancient hunter-gatherers, Puebloan ancestors, and Plains Indians are still being found. Tecolote Peak, a prominent landmark on the ranch, was an essential guidepost for settlers and bandits alike when they marched the Santa Fe Trail during 19th century.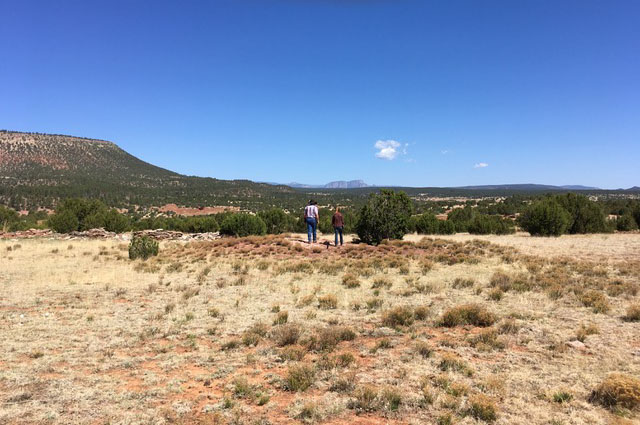 Little Tesuque Creek Geology Tour
Thursday, August 11 • 9:00 AM – 1:00 PM
Half-day tour in Santa Fe, NM
$150 per person
Registration Now Open
Email for registration link
Join geologist Kirt Kempter for a geologic hike up Little Tesuque Creek, exploring the geology of the Sangre de Cristo foothills. There is approximately 600 feet of elevation gain/loss during the hike. En route we will observe and discuss the main geologic units on the north side of Santa Fe, including early Rio Grande Rift sediments, ancient granites and metamorphic rocks, and faults related to the eastern margin of the Española Basin. We will also observe local exposures of the Great Unconformity and possible site of an ancient asteroid impact. Bring appropriate hiking gear, and water. Hiking poles recommended.

Galisteo Basin Night Sky.  Photo by Tony Bonanno.
Stargazing in the Galisteo Basin
Saturday, September 24 • 6:30 PM – 10:00 PM
Galisteo Basin, NM
Registration Now Open!
$150 per person, includes dinner

Join us for a celebration of our dark skies at a private home in the star-studded Galisteo Basin! The evening will include dinner, beer/wine and lots of "lofty" conversation about the night sky. Peter Lipscomb and other astronomers with telescopes will be there to show you the moon, planets and their moons, nebulae and stars.
Pueblo Shé, San Cristobal Ranch
Saturday, October 1 • 9:00 AM – 1:00 PM
Galisteo Basin, NM
$150 per person, includes lunch
We're sorry, but this event has reached capacity.  If you would like to be placed on the wait list, please write us at
This year, we are grateful to the Singleton family, owners of San Cristobal Ranch, for their permission to visit Pueblo Shé, one of seven large, ancestral villages of modern Pueblo people located in the Galisteo Basin.  Pueblo Shé was last studied by archaeologist Nels Nelson, American Museum of Natural History in 1912. Through mapping and excavation of 28 rooms, he documented 16 linear and L-shaped room-blocks with 9 plazas enclosed by an estimated 1,543 ground floor rooms. Ancestral Puebloan families first moved here in the 1200s and village growth and life ebbed and flowed for over 250 years.  Archaeologists Stephen Post and Mary Weahkee (Santa Clara Pueblo / Comanche) will lead the two-mile-long, three-hour walk across this amazing cultural-historical landscape.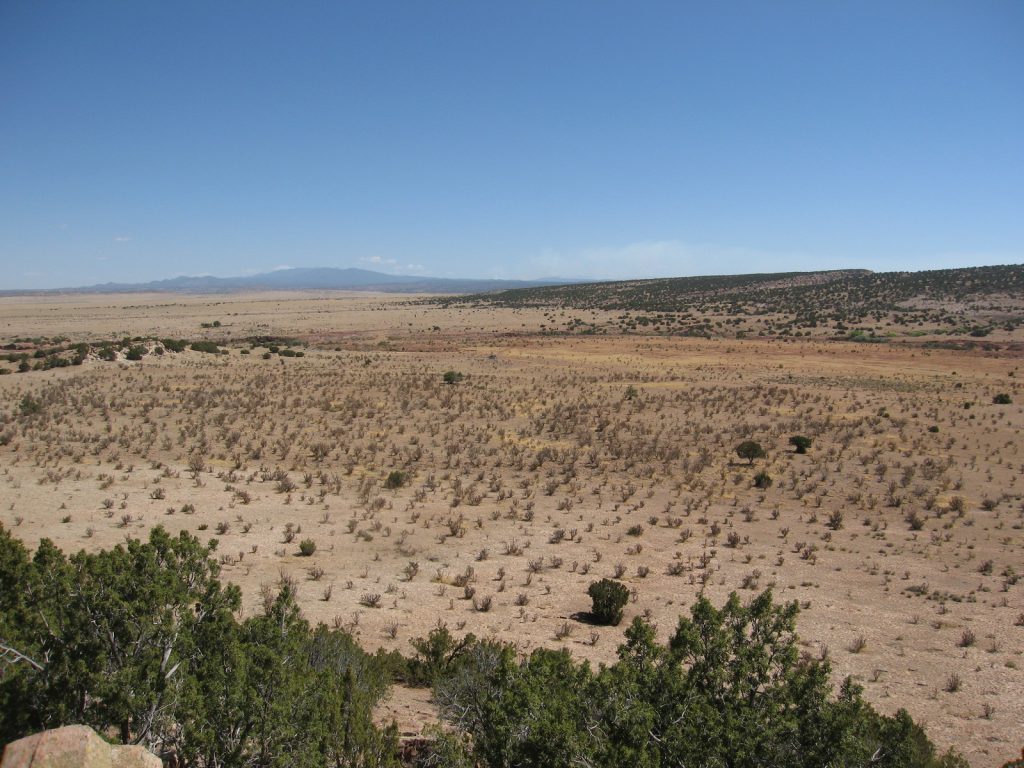 ABOUT THE GUIDES
Steve Post
Steve has worked as an archaeologist for 43 years in New Mexico, formerly Deputy Director of the Museum of New Mexico, Office of Archaeological Studies. His research spans 10,000 years of New Mexico's past with a special interest in the archaeology of the Northern Rio Grande region for the last 27 years. Most recently his studies have focused on 7,000 years of Archaic hunter-gatherer lifeways and the introduction of farming and Ancestral Puebloan culture into the Northern Rio Grande.
James Blackshear
James Blackshear has written three books on the Southwest, one about land grant history in New Mexico entitled Honor and Defiance: A History of the Las Vegas Land Grant in New Mexico, the second a social history of life on frontier forts, as well as an investigation of the Hispanic traders known as Comancheros, and his new book, Confederates and Comancheros, cowritten with Glen Sample Ely. Blackshear has published articles about similar subjects in both the New Mexico Historical Review and the Military History of the West, and occasionally reviews books for scholastic journals. He is also published in the Chicken Soup for the Soul Series. He teaches U.S. History at the UNT Dallas Campus, and Texas History at the Plano Campus of Collin College in North Texas. His current research includes the Comanchero trade, Comanchero trails, and the links between New Mexican mountain people and Plains Indians. He and his wife purchased land in Pendaries north of Las Vegas, NM in 1999, and built a cabin, where they spend a couple of months each summer.
Kirt Kempter
Kirt Kempter is a Fulbright Fellow and Ph.D. graduate from the University of Texas at Austin, now living in Santa Fe, New Mexico.  A volcanologist and field geologist, Kirt has conducted extensive field research in Costa Rica, Mexico, and New Mexico, and has worked with the NASA astronaut training program, providing field geologic training to astronaut candidates.  His interest in global geologic processes has allowed him to lead field-oriented expeditions to destinations such as Iceland, Australia, New Zealand, South America, Africa, and Antarctica. Kirt has led educational tours for Smithsonian Journeys and National Geographic Expeditions since 1993, and greatly enjoys sharing his passion and knowledge of geology with tour participants.  On the side, Kirt particularly enjoys photography, cooking, and tennis.
Peter Lipscomb
Peter Lipscomb began his education and advocacy for sensible lighting practices nearly two decades ago. During that time, he has backed legislative actions on the state level, supported outdoor lighting ordinance efforts in Clayton and Union County, Rio Arriba County, and Taos and Taos County. As former Night Sky Program Director for the New Mexico Heritage Preservation Alliance, he compiled the nomination packet to designate Clayton Lake State Park New Mexico's first International Dark Sky Park by the International Dark-Sky Association. A 2016 honoree of the Stewart Udall award, today he serves as Cerrillos Hills State park manager and conducts guided night sky tours for residents and visitors to New Mexico as owner of Astronomy Adventures.
Mary Weahkee
I come to archaeology with a keen interest in the field and a varied range of life experiences. As a member of Santa Clara Pueblo and the Comanche Nation, I have both Southwestern and Plains tribal affiliations. At Santa Clara Pueblo I lived with my grandparents until the age of six, when, like many Pueblo families from my village, my family decided to seek new opportunities in the city. Growing up in Santa Fe Springs, California, I got a good education and went on to Cal State University, Fullerton, where I was awarded an athletic scholarship to play volleyball. I was also fortunate enough to play two years on the United States national team. In 1983 I moved back home to New Mexico, taught physical education classes, and coached at Santa Fe Indian School, Pojoaque High School, and Santa Fe Prep.
My interest in archaeology began in 1992 when working with Nambe Pueblo Tours as a tour guide during the summers. I discovered that I had a natural curiosity about where my people came from. In March 2006 Steve Lentz hired me to help excavate the Civic Center in Santa Fe. Since then it has been just a pleasure working and learning archaeology with OAS's knowledgeable staff. I've also enjoyed giving yucca-fiber production demonstrations with Eric Blinman and Chuck Hannaford as part of the OAS education outreach program, and working with Steve Post as an assistant guide during the Chiles & Sherds event.