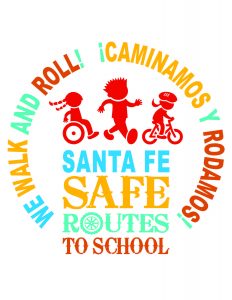 Santa Fe Conservation Trust is taking on "Safe Routes to School" – the promotion of walking and bicycling to school – through a federally-funded contract with the City of Santa Fe, to be complemented by efforts of staff of the Santa Fe Metropolitan Planning Organization, Santa Fe Public Schools, and other partners.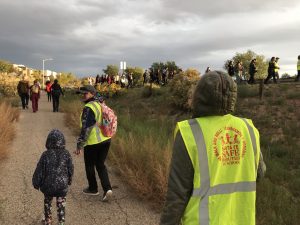 The objective of Santa Fe Safe Routes to School (SRTS) is to establish a city-wide SRTS Plan founded on development of pilot activities in the areas of the "Four Es" – Education, Encouragement, Enforcement, and Engineering, along with additional emphasis on Equity and Evaluation. The end result after two school years will be a fundable and sustainable community-wide SRTS program moving forward. We will know we are successful if more schoolchildren are walking and biking to school, which could signal a somewhat radical change in the mindset in our auto-centric community.
Engineering
Enforcement
Equity
Encouraging Santa Fe's families to walk or ride a bicycle in the community is a natural extension of SFCT's "community conservation" approach. Just like the natural-surface, recreational trails that SFCT has helped develop and maintain in public and private open space in practically every direction from town, the walkways and bikeways where we live, work, and go to school represent opportunities for healthier people, environment, and economy for Santa Fe.