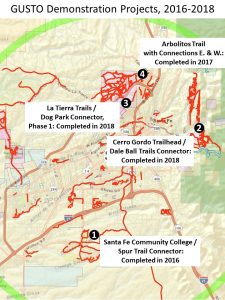 GUSTO Demonstration Projects are trail initiatives pursued by GUSTO partners in order to demonstrate the kinds of natural-surface connections we are trying to create.  GUSTO partners collaborated to plan, design, build, and promote four GUSTO demonstration projects in 2016 as outlined below.   These projects are intended to lay the groundwork for many more GUSTO collaborations in years to come.
(1) SFCC-Spur Trail Connector
This 0.4-mile trail linking Santa Fe Community College's Fitness Center to the County's Spur Trail was built in April 2016 with the assistance of Santa Fe County's Volunteer Coordinator and students from The Masters Program.
 Work Days – Celebration – Map
(2) Dale Ball Central – Cerro Gordo Trailhead Connector
This 0.4-mile trail through City land formerly housing a water filtration plant building allows users to connect Dale Ball Trails' Central and South sections without using Cerro Gordo Rd.  After the building was removed in 2016, city trail volunteers with the Trails Alliance of Santa Fe finally completed and opened the trail with assistance from the Santa Fe Fat Tire Society and The Nature Conservancy in Spring of 2018.
Work Days – Completion – Map
(3) La Tierra Trails – Dog Park Connector
Part of this long-awaited connection to La Tierra Trails through City open space was flagged with assistance from members of the Santa Fe Fat Tire Society and the Trails Alliance of Santa Fe in December 2016.  The proposed 0.6-mile alignment connects two existing pedestrian gates on the west side of Camino de los Montoyas.  The route was surveyed by an archaeologist in the Summer of 2017, through the generosity of the Larsen Fund.   After clearance by the City and State, through extensive clean-up efforts by volunteers with the Trails Alliance of Santa Fe, we completed the first phase of the trail in early 2018.  The completion of the trail was celebrated through integration into a La Tierra Trails Poker Ride fundraiser held in conjunction with bike week in May 2018.
Work Days in 2017 – Completion of Phase 1 in 2018 – Map
(4) Arbolitos Trail
This trail northeast of La Tierra Trails follows the upper Arroyo de los Frijoles in order to provide a connection to Ridgetop Rd. that would otherwise have been lost in the development of the "Arbolitos" subdivision within Santa Fe Estates.  Work on the trail was completed with assistance of the Trails Alliance of Santa Fe and the Santa Fe Fat Tire Society, who supplied volunteers, and the Arbolitos Subdivision, which provided rock, in mid-September, 2017.  Improvements to connections west to La Tierra Trails and east to the Cañada Rincon Trail followed to fill out an important GUSTO connection.