It was a busy year of trail work for the Santa Fe Conservation Trust and our partners with the Trails Alliance of Santa Fe, the Santa Fe Fat Tire Society, New Mexico Volunteers for the Outdoors, the Boy Scouts of America, and other volunteers.
Starting under a voluntary agreement with the City of Santa Fe, followed by a small contract to continue our role since 2014 as "City Trail Volunteer Coordinator," we put in a dozen work days at La Tierra Trails and nearly a dozen more at Dale Ball Trails, which also included some maintenance of Dorothy Stewart Trail and the Camino Cruz Blanca Trail.
We spent four work days on the Atalaya Trail, under a voluntary agreement with the Santa Fe National Forest, and two more to maintain and re-route a portion of the Winsor Trail that passes through private land, in partnership with The Forest Trust.
Over the summer, we scheduled more than a dozen work days in the Galisteo Basin to build the "North Trail" on our Conservation Homestead property and to create erosion control structures there under the guidance of Ecotone Landscape Planning.  Collaboration with Ecotone continued in the Fall with support from The Nature Conservancy to help build a more accessible trail and additional improvements in the Santa Fe Canyon Preserve, adjacent to Dale Ball Trails.
All in all we had 59 work days with participation by 79 volunteers, totaling 930 hours of work building and maintaining trails and protecting the environment through erosion control, as detailed in our Summary of Trail Volunteer Work 2021.  Thanks to our wonderful, supportive trails community for helping to make this all happen!
Winsor Trail, the Pond Tract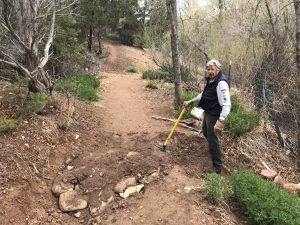 La Tierra Trails, for City of Santa Fe, including Chili Line Trail, with support of NM Outdoor Recreation Division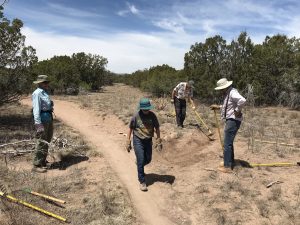 Atalaya Trail, under voluntary agreement with Santa Fe National Forest
Dale Ball Trails, for City of Santa Fe
Riverhaven Goathead Removal
Conservation Homestead, Galisteo Basin, with Ecotone Landscape Planning
Santa Fe Canyon Preserve, with Ecotone and Rocket Ramps, for The Nature Conservancy