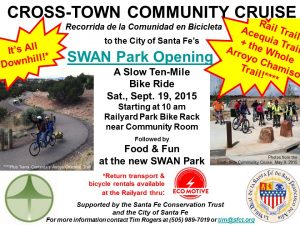 Twenty-seven cyclists participated in the first-ever Cross Town Community Cruise, spanning nearly ten miles from the Railyard Park to the City's new SWAN Park, all downhill.  The City of Santa Fe provided the food and fun at the park.
It was a wonderful opportunity to have a "destination-focused" cruise, and to use the Rail Trail, Acequia Trail, Arroyo de los Chamisos Trail, and Tierra Contenta's Arroyo de los Chamisos Trail as the transportation network that they offer, with mellow on-road connectors where needed.  And a wonderful opportunity to get a few dozen people down to the new SWAN Park.
A big thanks goes to Ecomotive Bikes who graciously provided return transport – back uphill to the Railyard – for four of the participants.