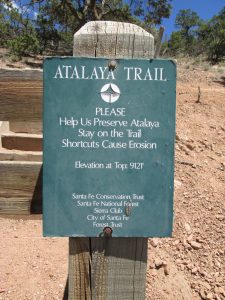 Please join us for maintenance of the Atalaya Trail, which SFCT has re-adopted on behalf of the Santa Fe National Forest. Meet at top of Camino Cruz Blanca above Wilderness Gate Trailhead – from that trailhead, head through the gate up the dirt road portion of Camino Cruz Blanca, to get up to the "neighborhood trailhead" for Atalaya Trail where I will have the tools, to head up the trail from there.
Since parking is super-tight at Dorothy Stewart and Wilderness Gate Trailheads, it is recommendable to park at St. John's Trailhead and walk all the way up.
Bring mask, work boots, long pants/shirt sleeves, sun protection, snacks, and water.
Let me know if you can make it!