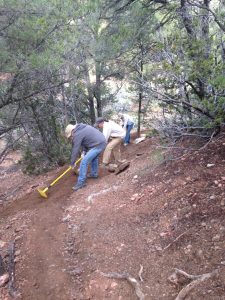 Please join us for maintenance of Dale Ball Trails South Section.  We will meet at Wilderness Gate Trailhead at 9 am.  Please consider parking at St. John's Trailhead and walking up Camino de Cruz Blanca, or carpooling up.  there may also be parking nearby at Dorothy Stewart Trailhead.
Bring work boots, long pants/shirt sleeves, sun protection, snacks, and water.  I'll bring the tools and gloves for whoever needs them.
Let me know if you can make it – – – contact Tim Rogers at or (505) 989-7019.