When:
2018-08-23T00:00:00-06:00
2018-08-24T00:00:00-06:00
Where:
Galisteo Basin Preserve

Contact:
Joanne Smogor
505-989-7019
Santa Fe Conservation Trust 25th Anniversary
INSIDER TOURS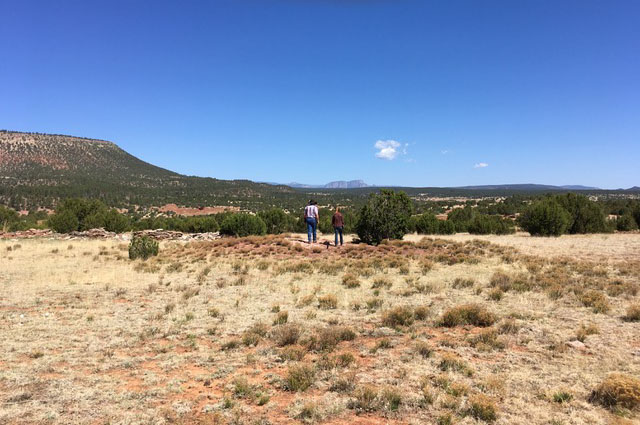 Rare opportunities to explore archaeological sites on private land with archaeologist, Steve Post, who has spent 41 years studying New Mexico's rich past.
Ruins · Artifacts · History · Gourmet Lunch
R.S.V.P. by phone (505) 989-7019 or email
Galisteo Spring
Thursday, August 23, 2018
Half-day tour in the Galisteo Basin Preserve, Santa Fe, NM
The Galisteo Basin has been continuously occupied by a diverse collection of peoples and cultures since pre-historic times. The most significant water source for wildlife on the 13,000-acre Preserve, the Galisteo Spring has also been used for millennia by numerous cultural groups who have passed through or settled in the Basin.
$150 per person includes tour and lunch
ABOUT THE GUIDES
Steve Post
Steve has worked as an archaeologist for 41 years in New Mexico, formerly Deputy Director of the Museum of New Mexico, Office of Archaeological Studies. His research spans 10,000 years of New Mexico's past with a special interest in the archaeology of the Northern Rio Grande region for the last 26 years. Most recently his studies have focused on 7,000 years of Archaic hunter-gatherer lifeways and the introduction of farming and Ancestral Puebloan culture into the Northern Rio Grande.
Jan-Willem Jansens
Joining us for the Galisteo Spring tour will be Jan-Willem Jansens, owner of Ecotone Landscape Planning, LLC and has worked for 25 years on forest and watershed conservation throughout northern New Mexico as co-founder of the Galisteo Watershed Partnership.
R.S.V.P. by phone (505) 989-7019 or email