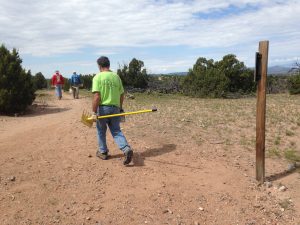 Come help City trail volunteers to maintain La Tierra Trails.  We will meet at the small trailhead at "Junction 22" on the way to the Motocross Track.  We will proceed on foot toward the area of Junctions 19, 20 and 21 – a/k/a the Woops – to do erosion control work and shore up a small bridge.
Getting to Junction 22 by motor vehicle requires heading west on the Relief Route from Camino de los Montoyas and taking your first right, onto the unmarked road that is now identified as "Mirada Rd." on Google Maps.  Then take your first and only left (toward the motocross track), and the small Junction 22 trailhead will be on your right.  (The best depiction of this location is on the city's La Tierra Trails map, available at http://www.santafenm.gov/document_center/document/626 )
Bring work boots, long pants/shirt sleeves, sun protection, snacks, and water.
To sign up, contact Tim Rogers at tim @ sfct.org or (505) 989-7019