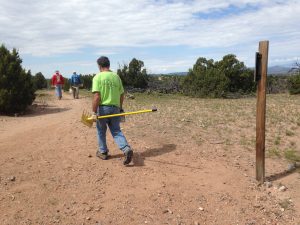 Come help SFCT volunteers work on La Tierra Trails on behalf of the City of Santa Fe.
Bring work boots, long pants/shirt sleeves, sun protection, snacks, and water.  I'll bring the tools!
If you haven't been to "Junction 22 Trailhead" take a look at the Foothill Trails map and approach Mirada Rd, on NM599 from the east (Camino de los Montoyas) because you can't get to it from the other direction on NM599.
To sign up, contact Tim Rogers at tim @ sfct.org