Climb on board the "Magical History Cruise," a "GUSTO" study ride kicking off "Bike-to-Work Week" by visiting little-known historic railroads in our area.   SFCT's Trails Program Manager will serve as your bicycle-mounted guide and historic interpreter along abandoned rail beds, trails, roads, and other more faint traces of railways of yore.
The highlight of this mellow community bicycle ride will be a visit to the soon-to-vanish Bruns General Hospital rail triangle, alongside the Rail Trail on land that is scheduled to be developed for new housing later this year.
Some of you may remember this as the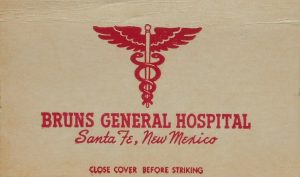 winding course of the "Rail Trail" before it was paved.  With the express permission of the developers, you can learn of planned trail connections to new residential roadways that will replace, and possibly even enhance, the informal trail connections that we can still enjoy just for another season or so.
We will also visit vanishing traces of the New Mexico Central Railroad and some abandoned sections of the Atchison, Topeka & Santa Fe that hold promise as future trail alignments.
For descriptions of past versions of the Magical History Cruise see: