When:
October 1, 2022 @ 9:00 am – 1:00 pm
2022-10-01T09:00:00-06:00
2022-10-01T13:00:00-06:00
Pueblo Shé, San Cristobal Ranch
Saturday, October 1 • 9:00 AM – 1:00 PM
Galisteo Basin, NM
$150 per person
We're sorry, but this event has reached capacity.  If you would like to be placed on the wait list, please write us at
This year, we are grateful to the Singleton family, owners of San Cristobal Ranch, for their permission to visit Pueblo Shé, one of seven large, ancestral villages of modern Pueblo people located in the Galisteo Basin.  Pueblo Shé was last studied by archaeologist Nels Nelson, American Museum of Natural History in 1912. Through mapping and excavation of 28 rooms, he documented 16 linear and L-shaped room-blocks with 9 plazas enclosed by an estimated 1,543 ground floor rooms. Ancestral Puebloan families first moved here in the 1200s and village growth and life ebbed and flowed for over 250 years.  Archaeologists Stephen Post and Mary Weahkee (Santa Clara Pueblo / Comanche) will lead the two-mile-long, three-hour walk across this amazing cultural-historical landscape.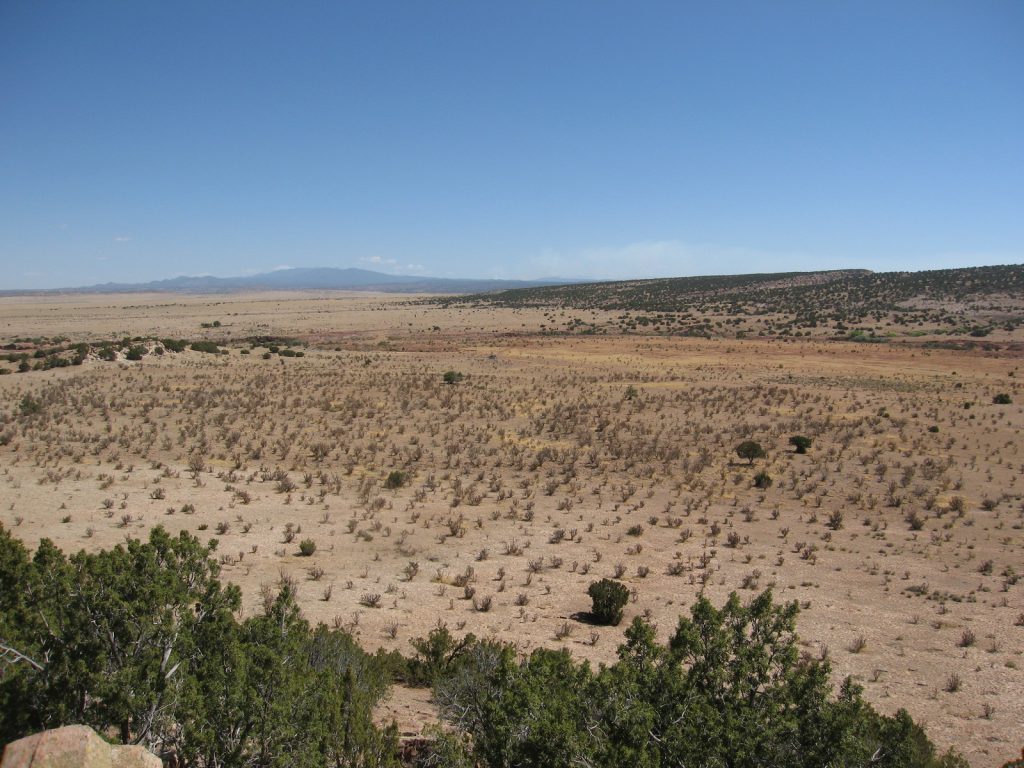 ABOUT THE GUIDES
Steve Post
Steve has worked as an archaeologist for 43 years in New Mexico, formerly Deputy Director of the Museum of New Mexico, Office of Archaeological Studies. His research spans 10,000 years of New Mexico's past with a special interest in the archaeology of the Northern Rio Grande region for the last 27 years. Most recently his studies have focused on 7,000 years of Archaic hunter-gatherer lifeways and the introduction of farming and Ancestral Puebloan culture into the Northern Rio Grande.
Mary Weahkee
I come to archaeology with a keen interest in the field and a varied range of life experiences. As a member of Santa Clara Pueblo and the Comanche Nation, I have both Southwestern and Plains tribal affiliations. At Santa Clara Pueblo I lived with my grandparents until the age of six, when, like many Pueblo families from my village, my family decided to seek new opportunities in the city. Growing up in Santa Fe Springs, California, I got a good education and went on to Cal State University, Fullerton, where I was awarded an athletic scholarship to play volleyball. I was also fortunate enough to play two years on the United States national team. In 1983 I moved back home to New Mexico, taught physical education classes, and coached at Santa Fe Indian School, Pojoaque High School, and Santa Fe Prep.
My interest in archaeology began in 1992 when working with Nambe Pueblo Tours as a tour guide during the summers. I discovered that I had a natural curiosity about where my people came from. In March 2006 Steve Lentz hired me to help excavate the Civic Center in Santa Fe. Since then it has been just a pleasure working and learning archaeology with OAS's knowledgeable staff. I've also enjoyed giving yucca-fiber production demonstrations with Eric Blinman and Chuck Hannaford as part of the OAS education outreach program, and working with Steve Post as an assistant guide during the Chiles & Sherds event.