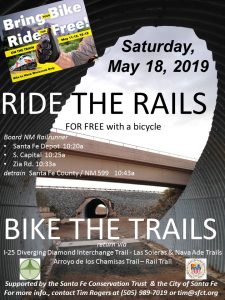 Taking advantage of NM Railrunner's offer "Bring your Bike, Ride for Free" offer (valid May 11-12 and May 18-19), catch the southbound Railrunner at:
Santa Fe Depot at 10:20,
S. Capital Station at 10:25, or
Zia Rd. Station and 10:33
Then we will all get off the train at Santa Fe County / NM 599 Station at 10:43 and ride back via some trails that most people have never seen, then taking the entire Arroyo Chamiso trail in to the Rail Trail.
All paved, and more than 90% urban trails.  We will finish back downtown by a little after noon, if you are able to make it past BOTH Second Street Breweries without stopping for lunch!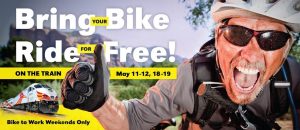 Part of Santa Fe Bike Week!
To learn about other "Bike Week" events, see www.santafebikeweek.com