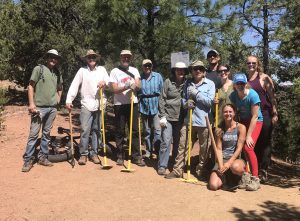 Come help SFCT volunteers maintain part of the Winsor Trail on private property near Bauer Rd.  Parking is very limited but available at the bottom of Winsor Trail on Big Tesuque canyon Rd.  Give yourself time to get a spot and walk up to our meeting point where the trail crosses Bauer Rd.  Also highly encouraged it to park at another remote location and ride a bike to the meeting point.
Bring a mask, work boots, long pants/shirt sleeves, sun protection, eye protection, snacks, and water.  And your favorite work gloves, or borrow some from me.  I'll bring the tools!
Let me know if you'd like to join us, thanks!