A Helping and Hopping Hand | Santa Fe Reporter, September 23, 2014
Second Street Brewery and the Santa Fe Conservation Trust partner for a frothy approach to land preservation
The next time you find yourself enjoying the Dale Ball Trail, the Santa Fe Rail Trail, the pristine view from Arroyo Hondo, or the unfettered, star-studded night skies in and around Santa Fe, perhaps take a moment to reflect on the amount of time, money and hard work (and perhaps a bit of politicking) it takes to keep those treasures safe and sustainable.

Since 1993, the nonprofit Santa Fe Conservation Trust has been a driving force behind the protection and expansion of our beloved trail systems, wide-open spaces, animal habitats, ranchlands, river corridors and so much more throughout Northern New Mexico.
Read the SF Reporter article »
---
Boneshaker Special Bitter
Saving the Land We Love One Beer at a Time!
Join us for a pint of Boneshaker Bitter now until we reach 20,000 pints! 25 cents of every pint will be donated to SFCT. ASK FOR IT BY NAME.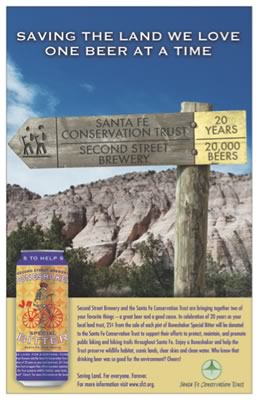 Click here to view the PDF [3.4 MB]
---
13th Annual Stewart Udall Legacy Dinner
and
SFCT 20th Anniversary Celebration

Sunday, September 14, 2014 4:30 – 8:00 pm
National Park Service Building
1100 Old Santa Fe Trail
$175 per person. RSVP by September 1, 2013
For reservations, Click the Donate button or call the office at 505-989-7019 or email
As we commemorate 20 years of successful land conservation, the design, implementation and extension of public trails and an impressive dark skies program, please join us to acknowledge the vision, dedication, and hard work of the following individuals who have been instrumental to our continued success.
Leslie Barclay . . . . . . . . . . . . . . . . . . . . . . . SFCT Beginnings
Colin Waldon . . . . . . . . . . . . . . . . . . . . . . . Land
Terry Smith . . . . . . . . . . . . . . . . . . . . . . . . . Dark Skies
Margaret Alexander . . . . . . . . . . . . . . . . . . Trails
Bill Johnson . . . . . . . . . . . . . . . . . . . . . . . . Trails
Auction Item: "First Bloom – Red" by Christopher Thomson
Award-winning artist, Christopher Thomson, has generously donated one of his sculptures for the event.  It is titled "First Bloom – Red" and is 84″h x 17″w x 14″d, forged steel & powder coat, valued at $2,300.
Available at the Stewart Udall dinner.
For more information on Christopher and his work, visit:
christopherthomsonironworks.com
We know that there's a special reason people choose to establish their businesses Santa Fe.  Very few places offer such breathtaking views of ever-changing skies, striking mountains, acres and acres of refreshing open spaces and an incredible trail system for the enjoyment of hikers, bikers, trail runners and equestrians, just minutes from their doorstep. What if you had the opportunity to promote your business and help preserve all of this beauty at the same time?  The Santa Fe Conservation Trust's Annual Stewart Udall Legacy Dinner is just such an opportunity.  It provides each of our event sponsors broad exposure to an influential audience and supports the Santa Fe Conservation Trust's efforts to preserve the very best of northern New Mexico.
If you are interested in being a sponsor for this year's event, check out these links:
Stewart Udall Legacy Dinner Sponsors
Century Bank
Estate of Judith Anne Bright Barnett
David & Pam Fleischaker
Leatherwood Foundation
Los Alamos National Bank
Rothstein, Donatelli, Hughes, Dahlstrom, Schoenburg & Bienvenu LLP
Solis Management Company, Inc.
Stewart Udall Legacy Dinner Award Recipients
2013 – N. Scott Momaday
2012 – Janie Bingham & Rina Swentzell
2011 – Jack Loeffler
2010 – In Memory Stewart Udall, Founder
2009 – Santa Fe Community Foundation & William deBuys
2008 – Stewart & Lee Udall
2007 – Bill Cowles
2006 – Dale & Sylvia Ball
2005 – Sallie Wagner & Nancy Meem Wirth
2004 – Mark Michel
2003 – Jean Hocker
2002 – Stewart Udall
Lowell Observatory Presentation on May 23rd
The Santa Fe Conservation Trust invites you to an extraordinary night of astronomy featuring two special guests from the Lowell Observatory in Flagstaff, Arizona
Gerard van Belle and Victor Garcia

Friday, May 23, 2014
7:00 p.m.
Driscoll Auditorium
Santa Fe Prep campus
1101 Camino de Cruz Blanca
Santa Fe, NM 87505
Join us for an exciting and informative presentation about the specific work they are pursuing, developing the new VISION camera for the Navy Precision Optical Interferometer. Hear about all the new programs and current research happening at the Lowell Observatory. Learn about the Discovery Channel Telescope – a 4.3 meter (170 inch) telescope that rises seven stories above the top of the Happy Jack cinder cone southeast of Flagstaff.  Lowell Observatory and Discovery Communications built this $53 million facility to push the frontier of knowledge, enabling the Lowell astronomers to answer fundamental questions about the universe – for example, how our solar system formed and how dwarf galaxies evolve.
FOLLOWING THE PRESENTATION,
JOIN US FOR STARGAZING WITH THE CAPITAL CITY ASTRONOMY CLUB!
NOTE: If you are bringing a group or coming from outside Santa Fe or the immediate area, please call the Santa Fe Conservation Trust Office at 989-7019.  We will do our best to accommodate you!
Community Cruises: May 10 and May 17
Through support from the City of Santa Fe, the Santa Fe Conservation Trust's Trails Program is happy to host two community bicycle rides on the Saturday Mornings before and after "Bike to Work Week."  Both rides are intended to show off our area's multi-use trails and the calmer streets that can be used to connect them.  Both rides are slow-paced with stops, with a total distance of less than 10 miles.  Children are welcome in trailers, on tagalongs, or on their own bikes if they are experienced and skilled enough to stay in a bike lane or otherwise to the right while riding on road.  For more information contact Tim Rogers, SFCT's Trails Program Manager, at (505) 989-7019 or ">.
Saturday, May 10, 2014
9:30-11:30 a.m.
Meet at South Side Public Library
Santa Fe, NM
Railyard Community Cruise

Saturday, May 17, 2014
9:30-11:30 a.m.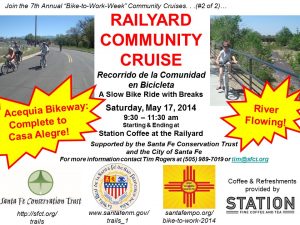 Meet at Station Fine Coffee at the Railyard
Santa Fe, NM
Dale Ball Day is March 7, 2014
Join the Santa Fe Conservation Trust, the City of Santa Fe, and Santa Fe County as we celebrate the legacy of Dale Ball at – where else? – Dale Ball Trails.  Meet us at 1 pm at the "corral," also known as the Sierra del Norte trailhead, just off of Hyde Park Rd. on Sierra del Norte.  After we share some reflections on the wonderful open space and trails that Dale Ball worked to preserve and build, we will hit the trails in a variety of ways:
Guided Hike, by the Trails Alliance of Santa Fe
Guided Mountain Bike Ride(s), by Santa Fe Fat Tire Society (trail conditions permitting)
Trail Maintenance activity: See the work of volunteers from the Santa Fe Fat Tire Society, the Trails Alliance of Santa Fe, the Master's Program, and Santa Fe County and learn how you can become a trail volunteer.
Activities will last until 3 pm or so.  Refreshments and snacks will be provided.
Dale Ball Day was first proclaimed by the New Mexico State Legislature for March 7, 2013 (see link below).  This is our first chance to organize a gathering to recognize the day.  We have invited Dale and Sylvia Ball as well as Councilor Patti Bushee, who chairs the City's Bicycle and Trails Advisory Committee.
We are also celebrating the initiation of activities under our new contract with the City of Santa Fe to provide volunteer coordination and related services focusing on the City's network of natural-surface trails.  For more information, contact our new Trails Program Manager, Tim Rogers, at or (505) 989-7019.
NM Legislative Memorial Proclaiming Dale Ball Day, March 7, 2013
Dale Ball Day 2014 Flyer PDF
SFCT welcomes "The End of Night" author Paul Bogard
Where: Driscoll Auditorium at Santa Fe Prep
When: Tuesday, November 19th at 7PM
RSVP to:
The Santa Fe Conservation Trust welcomes Paul Bogard author of "The End Of Night: Searching For Natural Darkness In An Age Of Artificial Light" (Little Brown, July 2013), as he makes a stop in Santa Fe during his national book tour.  Mr. Bogard will share highlights of his journey across continents to experience some of the darkest and brightest places on the planet. Having spoken with lighting designers, educators, park rangers, scientists and many others, Paul weaves together insights about how the nighttime environment is being lost to the excessive use of artificial lighting and what we can do about it. The program will also look at ecological consequences and the threat to human health caused by a lack of natural darkness.
Paul Bogard has recently appeared as a guest on All Things Considered, The Diane Rehm Show and a variety of local programs nationwide. He has contributed to a number of publications including National Geographic and Salon.com. "The End of Night" has garnered favorable reviews from The Boston Globe, Nature, The Wall Street Journal and The London Times.
From Little Brown:
A starry night is one of nature's most magical wonders. Yet in our artificially lit world, three-quarters of Americans' eyes never switch to night vision and most of us no longer experience true darkness. In "THE END OF NIGHT," Paul Bogard restores our awareness of the spectacularly primal, wildly dark night sky and how it has influenced the human experience across everything from science to art.
From Las Vegas' Luxor Beam—the brightest single spot on this planet—to nights so starlit the sky looks like snow, Bogard blends personal narrative, natural history, science, and history to shed light on the importance of darkness—what we've lost, what we still have, and what we might regain—and the simple ways we can reduce the brightness of our nights tonight.
Following Mr. Bogard's talk copies of the book will available for purchase priced at $27.00 each cash or check accepted. Weather permitting, telescopes will be set-up outside for informal stargazing.
This is a free event. However, space is limited, so if you would like to attend, RSVP to:

Find Driscoll Auditorium on the Santa Fe Prep campus map
SFCT is turning 20! Please join us to celebrate this momentous occasion at our annual holiday party
Where: Santa Fe Woman's Club, 1616 Old Pecos Trail, Santa Fe, NM
When: Wednesday, December 4, 2013 at 6:00 – 8:00 PM
RSVP to:
In December of 1993, the Santa Fe Conservation Trust was incorporated to protect Atalaya Mountain from development, and worked with the city, county and private individuals to create official open space and place 50 acres of the mountain under conservation easement. We've come a long way since then, and now conserve thousands of acres in three counties, advocate for public trails and provide public education as to the importance of dark skies.
Help us celebrate another exciting and successful year for the Santa Fe Conservation Trust and learn about our current work and what we have planned for the coming years.
In order to plan accordingly, we ask that you RSVP to the Santa Fe Conservation Trust no later than Wednesday, November 27, either by phone at (505) 989-7019 or by email at .

Commonweal's 10th Anniversary Star Party Gala!
dinner • music • telescopes
Saturday, October 12 | 5:00 pm – 9:00 pm
Please join Commonweal Conservancy, the Santa Fe Conservation Trust and the Capital City Astronomy Club to celebrate Commonweal's 10th Anniversary.
Feast on a delicious New Mexican buffet supper provided by the award-winning Cowgirl Hall of Fame.
As the sun sets over the ridge line of the Preserve, dance to the live bluegrass music of Kitty Jo Creek Band.
As twilight gathers (around 6:45 pm) astronomer Peter Lipscomb will guide us on a tour of the night sky.  Members of the Capital City Astronomy Club will be on hand with their telescopes to share the wonders of the visible cosmos.
Details
Location:  Galisteo Basin Preserve | Cowboy Shack Trailhead.
Food:  A New Mexican buffet supper of chicken and vegetarian enchiladas, mixed green salad, jalapeno cornbread, dessert and drinks will be provided.
Terrain:  The dinner, music and star gazing will take place in a grassy meadow on uneven ground.
Bring:  Sturdy shoes, appropriate layers of clothing to take you into a chilly evening, flashlight, picnic blanket and/or camp chairs.
RSVP:  Please RSVP by Friday, October 4th by calling Gretchen Grogan at 505.982.0071, ext 106 or emailing her at .  Please title your email message: RSVP to Star Gazing Party.
Tickets: Tickets are $35 per adult and $15 per child (under age 16).  A web link for ticket purchases will be sent concurrently with your reservation's confirmation.
To learn about the Santa Fe Conservation Trust, visit www.sfct.org.
You can always check in on the GBP at www.GalisteoBasinPreserve.com.
12th Annual Stewart Udall Legacy Dinner
Sunday, September 15, 2013 4:30 – 8:00 pm
National Park Service Building, 1100 Old Santa Fe Trail
$175 per person. RSVP by September 1, 2013
For reservations, call the office at 505-989-7019 or email

The Stewart Udall Environmental Award is given to honor those values, that work, or that person or persons who inspire us to love the land, care for it, preserve its sweep and heal its wounds. In honoring Stewart, we seek to encourage every man and woman, every modest friend, to rise to the peaks, to never give up, nor ever lose touch with the black earth, the trails between towns, the web of community and the land.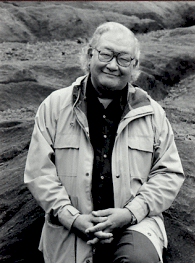 2013 Honoree – N. Scott Momaday
A native of Oklahoma and a member of both the Kiowa and Cherokee tribes, N. Scott Momaday is a writer, teacher, lecturer and artist. His first novel House Made of Dawn led to the breakthrough of Native American literature into the American mainstream after the novel was awarded the Pulitzer Prize for Fiction in 1969.  Momaday is considered the founding author in what has been coined the Native American Renaissance. He has been featured in numerous documentaries, including The West, for his masterful retelling of Kiowa history and legend. Momaday is also the founder of the Rainy Mountain Foundation and Buffalo Trust, a nonprofit organization working to preserve Native American cultures.
Acknowledging the important role that SFCT plays in preserving wildlife habitat, the evening's festivities will also include a special presentation by the Wildlife Center of Española.
Also joining us at the dinner will be Dorothy Massey from Collected Works Bookstore, who will have a fresh and relevant selection of books available for purchase.
Udall Underwriting Support
Galisteo Basin Gold
Judith Bright Barnett
Sun Mountain Silver
Charmay Allred
Solis Management (Cody & Kelly Barnett)
Linda Saurage
Arroyo Hondo Bronze
Janie and George Bingham
David and Pam Fleischaker
The Lannan Foundation
Leatherwood Foundation

Alicia Smith
Stephen Velie
Special Friends
Connie and Bob Bright
David and Kathy Chase
Jana and Lee Reynolds
Carson and Marsha See
John Yoeckel
Tom and Candy Knudson
In-Kind
Charmay Allred
Carol Anthony
Peter Hagen
Kirt Kempter
Abigail Ryan
Special thanks to the Cowgirl Restaurant and the National Park Service
Stewart Udall Legacy Dinner Award Recipients
2012 – Janie Bingham & Rina Swentzell
2011 – Jack Loeffler
2010 – In Memory Stewart Udall, Founder
2009 – Santa Fe Community Foundation & William deBuys
2008 – Stewart Udall
2007 – Bill Cowles
2006 – Dale & Sylvia Ball
2005 – Sallie Wagner & Nancy Meem Wirth
2004 – Mark Michel
2003 – Jean Hocker
2002 – Stewart Udall
2013 Banff Mountain Film Festival

Monday, March 18th & Tuesday, March 19th, 2013

Presented in Santa Fe at the Lensic Theater by Sangre de Cristo Mountain Works and the Santa Fe Conservation Trust.
The Banff Mountain Film Festival features the world's best films on mountain adventure, culture, and the environment selected from hundreds of entries submitted from around the world. Through the big screen be transported to the world's last great wild places, visit remote cultures with some remarkable adventurers and experience amazing footage of adrenaline packed action sports such as climbing, kayaking, mountain biking and skiing. Exhilarating and thought provoking, this is a must-see for mountain enthusiasts.