Eight City Summer Campers and two counselors from the Genoveva Chavez Community Center made their way north from the "corral" trailhead to the La Piedra Trail on June 23.  Hiking kits provided with support from the S.L. Gimbel Foundation included hats, packs, water bottles, sunscreen, and a compass for each new camper.
This group was the first field trip to visit the new La Piedra interpretive sign, and they did not stop there.  After descending down to the Arroyo de la Piedra, the group headed up the arroyo to a shady spot, beyond where any previous field trips had gone.  (…But not quite up and over to the Little Tesuque Creek, which they would visit later in the day, by van, for some water sampling.)
Each camper also received a copy of the Passport to Santa Fe's Foothill Trails, and a sticker to put onto the page for "Dale Ball Trails North."  A couple of campers received stickers for last week's trip to Dale Ball Trails South, as well – putting them halfway toward completing the passport for a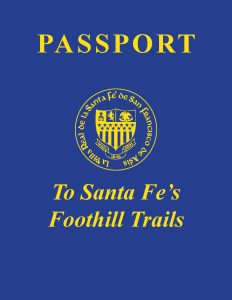 prize.