The drive to Tecolote Ranch is a great introduction to the vast history of New Mexico, especially when archaeologist, Steve Post is with you. Due to his training and experience Steve Post is well versed in the rich history along Interstate 25 the route we took from Santa Fe to Tecolote Ranch, just outside of Las Vegas in Romeroville.  Outside of Santa Fe lush mountains with tall pines open up into the vast open grasslands of the plains, spotted with bright red indian paintbrush flowers.  It was here that massive trade routes existed between native peoples and the people who lived at Pecos Pueblo. Evocatively named landmarks like Starvation Peak dotted the way and we were all illuminated by Steve's stories and knowledge.
We arrived at ranch headquarters and were greeted by Ranch Manager, Rowdy Robinson and his wife Ruby. Ruby grew up on Tecolote Ranch and her dad, Bud, was Ranch Manager for over 60 years starting at the age of 19. Steve and Rowdy reviewed the plan they had made a few weeks earlier, and we were off to see the many sights on the 9150-acre ranch.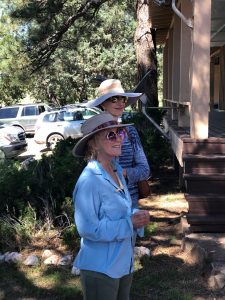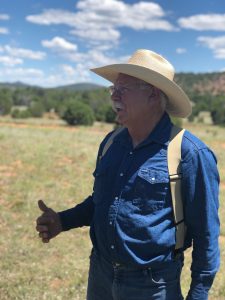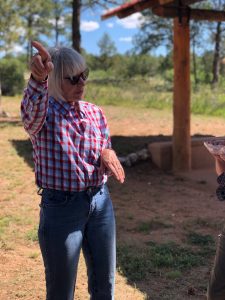 Pictured: Guests at Ranch Headquarters ready to go! , Ranch Manager Rowdy Robinson and Ruby Robinson who was raised on Tecolote Ranch
Sprawling sage green grasslands met with juniper and pine. Hermit's Peak and Tecolote Peak offered stunning scenery as we arrived at our first stop. Traces of those who traveled the Santa Fe Trail were pointed out to us, deep ruts left from wagon wheels. To the naked eye it looked like juniper trees and grasslands however Steve and Rowdy taught the group how to read the landscape and see the ruts. Steve brought a book with a series of old maps and helped us see where we were in the context of routes travelers and traders would have followed.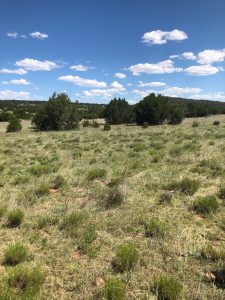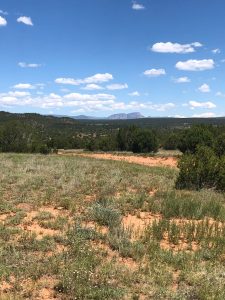 Pictured, Ruts on the Santa Fe Trails now filled in with junipers and grass and Hermit's Peak view from the ranch
Our second stop brought us to what Rowdy and Steve surmised was a holding pen for livestock or watering station for those on the Santa Fe Trail with their oxen. In a playful banter these two experts talked about how the structure could have worked and who may have used it. A hand dug well and stacked stones ruins were especially interesting. Objects were all around and soon everyone was bringing Steve bits of rusted metal and fragments to identify, which he did with an expert eye.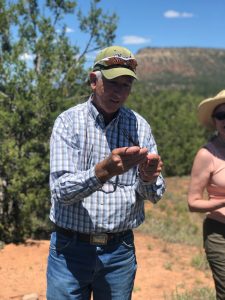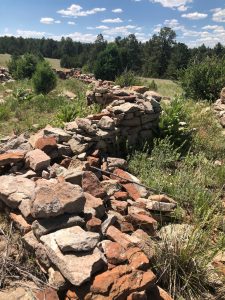 Steve Post points out special features of a found fork          Rock Ruins of a holding pen for livestock
We then make a quick stop to see the "developed" part of the Santa Fe Trail worked on by the Union Army. This included stacked rocks to prevent erosion and a 30' wide road. No doubt this would have been a welcome stretch after the geological feature known as Kearney's Gap and other notable stops on the Santa Fe Trail that forced travelers through narrow, muddy and sometimes dangerous passages. With our heads full of information and sites we headed back to Headquarters for lunch.
Local restaurant Charlie's Spic and Span catered enchiladas, beans and posole with homemade biscochitos for dessert. We all dug in, hungry from our adventures. Guests sat under a covered bench and looked out at the pond that was rich with fish and frogs.
After a break we were all eager to head out on the other side of the ranch for the next set of adventures. Over the last year, a thinning project has kept the pines very healthy on this conservation easement. We arrived at a graveyard. The local red flagstone had been carved with large crosses. One had the date 1899 and the name Cuda carved on the back of it.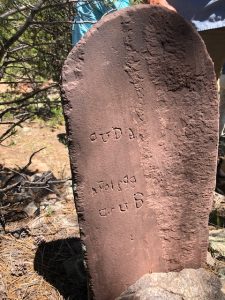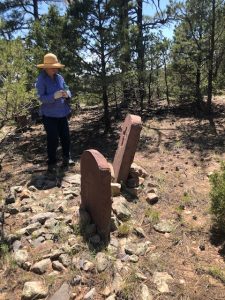 Carved with date of 1899                                                                        More graves
Our last stop was a homestead with evidence of terraced gardens. Steve Post pointed out that the people who lived in this place were most likely of European descent since there was no sign of Pueblo pottery or an horno, which was a feature of Hispanic home sites. Steve surmised that it could have been Basque sheep herders that were prevalent in the area. A nearby grave may have marked the end of the people who once lived at the homestead.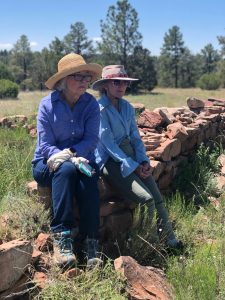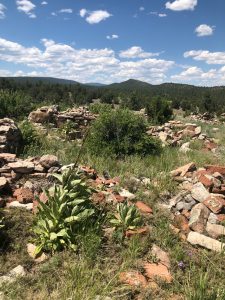 A break on the walls of the homesite.                                   The multi-room home site.
We drove around the ranch to get a few more views and made our way back to headquarters. Beer, wine, coffee and iced tea were welcome refreshments as we all relaxed and talked to one another. We gathered ourselves to get back on the van provided by Santa Fe Valet and headed back to Santa Fe with a little more knowledge and appreciation for where we live.
Special thanks to everyone who came, Rowdy and Ruby Robinson and Steve Post
A special HUGE thanks Santa Fe Valet for donating the use of the van!!!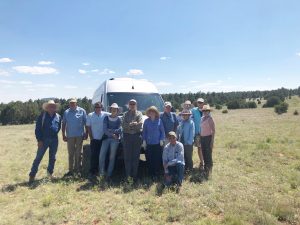 Written and photographed by Dezbah Stumpff, Executive Assistant at the Santa Fe Conservation Trust