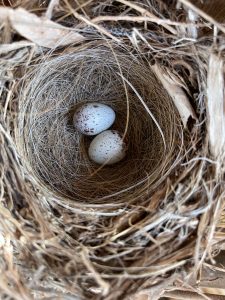 Yesterday was a big day on the pandemic front with good news about masks for vaccinated people. Check out the CDCs new recommendations if you haven't seen them yet. Of course, the governor has to weigh in soon. Even though it is good news, I feel sort of like a rabbit caught in a car's headlights. A little frozen and disoriented! Just as it was hard to believe that an invisible virus could cause so much chaos last year, it is hard to believe it is now mostly under control! I do believe, but I don't plan to burn my masks just yet!
The good news is that just as things are starting to open up, our Vámonos program is getting underway again next week. I want to encourage all of you to come take a walk with us. I don't know about you, but the pandemic was tough on my body. I tended to roll out of bed directly to my computer, stayed there all day, then rolled to the kitchen for dinner, then to bed. And I did that day after day until just recently. If you, like me, need more motion in your life, join us! There are 24 walks planned between May and October. They are free. They last about an hour. They will introduce you to some of the City's ADA paved trails around our parks. And you'll get to meet some nice people while you are at it. We have also planned once a month Saturday hikes from June through October that last around 2 hours on our dirt trails, so if you'd like to explore some of Santa Fe's dirt trails, plan a Saturday hike with us. You can get the Vámonos schedule at sfct.org/vamonos. The first walk is this Tuesday, the 18th, at 6 pm starting at the South Side Library. I hope to see you there.

TEXT SFWALKS TO 833-243-6033 FOR WALK REMINDERS
SFCT is kicking into high gear for trails maintenance. Last year we had to keep our work groups smaller and socially distanced. But everyone utilized the trails to the max, so there's some work to do to keep them accessible and safe. Interested in being a trails volunteer? Email us at .
And we've got several important work days coming up June 10-12 and June 17-18 from 8 am to 1 pm. These work days will be about implementing erosion control and drainage management techniques on a property in the Galisteo Basin area. Sure, we are in the midst of the worst drought in our history, but even in a drought we can expect to get a big storm that will drop one or two inches or rain on parched soil. How can we slow down and distribute the water across a drought-stricken landscape to make the most of the moisture we may receive? Come learn how in June, and help us bring the land back to life.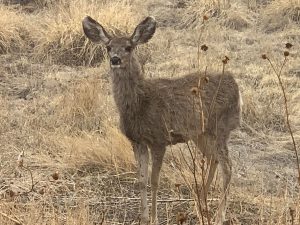 Finally, I want to let you know that our land conservation work is going strong. With more than 100 landowners and almost 43,000 acres protected – and more projects on the horizon – we have decided to hire another land program professional to help us implement our strategic conservation plan. I hope to introduce you to that person in the next e-blast and tell you more about the plan. We couldn't hire a new employee if it weren't for your financial support to get us here. Thank you for believing in the work we do and supporting us with your generous gifts. If you haven't done so lately, please make a donation today. Together we can improve your quality of life by protecting the land, trails and skies of this beautiful region.
In gratitude,

Sarah Noss
Executive Director

View of the Milky Way from the Galisteo Basin. Photo courtesy of Tony Bonanno.
Shine On!
Have you let the City know your thoughts on the kind of lights you'd like for over 5,000 streetlights that are going to be replaced? Below are links that will help you better understand the issues. The deadline for your comments was extended to May 24th, so please be sure to communicate directly with your city councilors and Mayor Webber. This is a project that will impact us all – and the night sky – for many years to come.
See SFCT's educational online chat with facts about lighting that we all need to know here: https://www.youtube.com/watch?v=0FIwL3v_kvg&t=141s
Our online chat generated 75 unanswered questions that were answered here: https://nightskysantafe.org/roundtable-qa/
Here's how you can reach the city councilors and mayor: https://www.santafenm.gov/elected_officials
Why we care: SFCT requires landowners on our 43,000 acres of preserved land to use low impact lighting to protect the night sky. Our hope is that the City will be very sensitive to what kinds of lights and fixtures they will use when they replace the streetlights. The more amber the better! If you are curious to see what the panelists from our online chat recommend, go here: https://nightskysantafe.org/recommendations/
New Trail Coming Along
Today, Tim Rogers, our Trails Program Manager, had a work day on the new Chili Line Trail just past the junction 22 trailhead at the La Tierra Trails. This interpretive trail on the historic rail bed is getting closer to completion later this year! We send our thanks to the State's Outdoor Recreation's Special Projects and Infrastructure Fund for making this new trail possible.
Dust Off Your Bikes for a Community Cruise
And tomorrow, Saturday May 15, from 10 am to noon, Tim will be leading his ever-popular Community Cruise. This will be an easy urban bike ride celebrating Bike Month 2021. First real cruise hosted by SFCT since 2019! We'll be starting and ending at the Railyard Park's "Community Room" behind Site Santa Fe. We will check out the Acequia Trail, the River Trail, the newest section of Rail Trail through South Capital Station, and the relatively mellow streets and trails that connect them. Info. at sfct.org/event/community-cruise-3 – Also see santafebikemonth.com/ for more bike events in May!
Bears Ears Trip was Fantastic
SFCT's inaugural five night camping trip to Bears Ears National Monument was a huge success! Twelve of us explored this amazing landscape in southeast Utah, learned about the Ancestral Puebloans, explored the remnants of the past, and bonded as a group. Linda Siegle was our knowledgeable guide who led us on 5 to 6 mile hikes into the canyons to explore. Let us know if you'd be interested in joining in on another trip next year. You can read all about it here: https://sfct.org/event/bears-ears-guided-camping-trip/
Thanks for Your Nominations.
Now Please Vote.
Do you love the landscapes and open space around Santa Fe? Are you a hiker or biker on local trails? Do you believe that protecting wildlife habitat and water resources is important? Care about the night sky? Please Vote! Show your support for the important work of the Santa Fe Conservation Trust by voting in the Reporter's Best of Santa Fe – Nonprofit for the Environment.
https://vote.sfreporter.com/local-living/nonprofit-for-the-environment
SFCT depends on the generosity of the community to fund our work.  SFCT partners with our community to keep northern New Mexico's living lands and people flourishing together.  We protect environmentally significant landscapes, ignite people's passion for nature and enable the continual regeneration of our healthy place.  If you believe in our mission, please make a 
donation today!