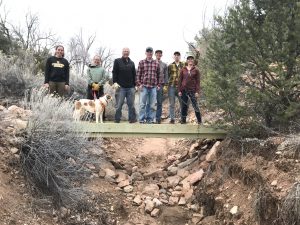 On the evenings of March 16 and 17, in lieu of the cancelled showing of the Banff Film Festival, the Trail Program Manager met with a small group of members of the Santa Fe Fat Tire Society to install a long-awaited footbridge crossing the Cañada Ancha, the arroyo along Hyde Park Rd.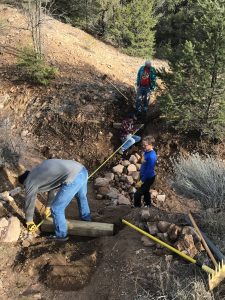 Thanks to the initiative, expertise, and materials provided by SFFTS members, we now have a far more reasonable and user-friendly way for hikers and mountain-bikers to cross this sharply-incised arroyo between Junctions 10 and 11 of Dale Ball Trails.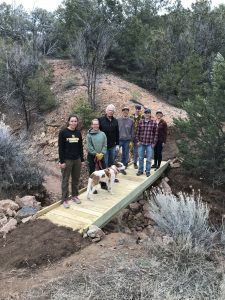 This marks the fifth footbridge that we have put in with SFFTS assistance since 2015 to connect city trails, streets and open space!