Please Volunteer!
Galisteo Basin Erosion Control Work Days
on June 11 & 12, 18 & 19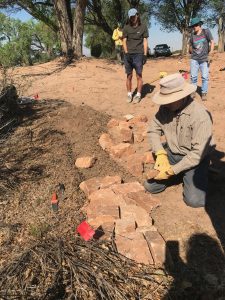 Please sign up to learn erosion control techniques from a master, and to help SFCT employ these techniques to protect and restore a property in the Galisteo Basin – from 8 am to 1 pm on June 11, 12, 18, and 19.  Lunch provided!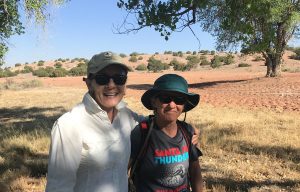 SFCT is working to bring a property in the Galisteo Basin back to life.  We've reseeded a 13-acre area and now we need to protect this area utilizing one-rock dams, media lunas and other erosion and drainage control techniques.  Even though we are in the midst of a drought, torrential downpours can always happen, sending water and our seeds rushing to the arroyo.  So learn how these simple structures can slow down and spread our precious rainfall while giving us a hand on restoring this beautiful property.
Please sign up at https://forms.gle/yE5fEHDHAZEdfsq76  for one or more dates starting this Friday and Saturday (the 11th and 12th) or next Friday and Saturday (the 18th and 19th).  See you there!
In gratitude,

Sarah Noss
Executive Director

VAMONOS Walks are Underway.  Join Us!
We had a great walk last Saturday for Take a Kid Hiking Day/National Trails Day at the La Tierra Trails.  More than 20 hikers joined in!  As usual, we started off as strangers and ended up as friends.
Vámonos is our community walking program with 24 hikes or walks scheduled between May and the end of October.  Come meet your community and get some exercise!  The after work walks are free and last about an hour.  Saturday hikes last about two hours.
Don't know where to walk?  Don't like to walk alone?  VAMONOS can fill that void.
Here are the remaining June walks:
Tuesday, June 15th
Take a Walk on the South Side at 6 pm
Meet at the Southside Library (6599 Jaguar Drive).  We'll walk to Swan Park and back on an ADA accessible, paved trail.  Round trip is about 3 miles.
Wednesday, June 23rd
Wellness Walk with SFCT board member
Julie Martinez, MD at 5:30 pm
Meet at Larragoite Park near the parking lot at the corner of Cristóbal Colón and Agua Fria Streets.  We'll walk to Ashbaugh Park and back on an ADA accessible, paved trail.  Round trip about 2 miles.
Friday, June 25th
Walk with our Elders at 10 am
Meet at the Bicentennial/Alto Park at 1121 Alto Street (near Bicentennial Pool).  This is a slow meander along the River Trail on an ADA accessible, paved trail.
Round trip varies.  We go until we feel like turning around and coming back.  Up to 2 miles.
Need a reminder?
Text SFWALKS to 833-243-6033
to get a text reminder the day before each walk.
Get the full VAMONOS schedule at https://www.sfct.org/vamonos
Vámonos: Santa Fe Walks is organized by the Santa Fe Walking Collaborative, convened by the Santa Fe Conservation Trust.
Members include:


Save the Date for our
Community Conservation Celebration
Our biggest annual event is going to be an online and in person bash on Thursday, August 26th.  This is the party you won't want to miss that generates meaningful support for our conservation and trails work.  Details coming soon!

Banff is Back.  Save the Date!
Save the date for the 24th annual Banff Mountain Film Festival at Motorama at the Downs Santa Fe on September 7th and 8th.  A pandemic can't keep us down this year.  Let's enjoy the world's best outdoor films at our local drive-in!  Tickets on sale soon.  You can sign up to be a Banff sponsor until July 15th.  Get your name or business in front of Santa Fe's best conservation loving movie crowd by signing up today.
SFCT depends on the generosity of the community to fund our work.  SFCT partners with our community to keep northern New Mexico's living lands and people flourishing together.  We protect environmentally significant landscapes, ignite people's passion for nature and enable the continual regeneration of our healthy place.  If you believe in our mission, please make a 
donation today!