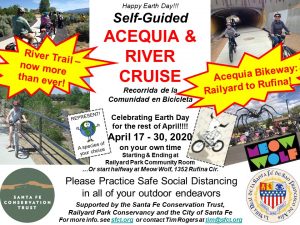 Unfortunately Earth Day events organized by the Railyard Park Conservancy have been cancelled due to restrictions on gathering during the COVID-19 pandemic.
You are strongly encouraged to practice safe social distancing and other protective measures in all of your outdoor activities!
Through the end of April, please consider taking this nine-mile community bicycle ride celebrating Earth Day 2020 on your own time, visiting trails, parks, and mellow streets along the Acequia Madre and the Santa Fe River, and using some slightly busier roads with bike lanes to complete the connection between these two life-giving waterways.
This ride is intended to begin and end at the Railyard Park, with a half-time turnaround (or optional mid-way starting point) at Meow Wolf at 1352 Rufina Circle.  But for self-guided riders, the route can be joined any time and anywhere along the acequia or river along the way.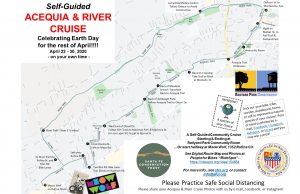 Map Now Available!  Click on image above for full .jpg file or get the pdf file here: Map for Self Guided Acequia and River Cruise April 2020
Honor Mother Earth by tricking out your bike, trike, scooter, skateboard, horse, or self to represent a natural species of animal or plant of your choice!
Post or send us photos by e-mail, Facebook, Instagram, RideSpot, or Strava and you may win a prize!
Digital versions of the route can be seen on Strava or through People for Bikes' RideSpot, which features photos of past community cruises to illustrate where the Acequia and River Cruise will go.  They are also great ways for you to record and share your own adventure!
Here (and above) are some photos and links to descriptions of previous years' Earth Day Cruises.  Have a great Self-Guided Cruise for the 2020 edition!