In my last communication with you, I told you about how excited we are about the monsoons and how they are watering our reseeding project in the Galisteo Basin.  Last year, through the generosity of a local foundation, we were able to purchase a 300 acre property that will become a showcase for conservation.  It will be a place with trails for public access, but also an educational center, where landowners can learn about land restoration techniques, rangeland management, and even how to bring a wetland back to life.  Already we had 40 volunteers help us do some erosion control work and then the rains came.  At first it was tantalizingly irritating, because it would be raining nearby, but not on the reseeded area.  But finally, with a little patience, the rains came and now the seeds are sprouting.  Here's what's coming up so far, according to Gordon Tooley, who did the keyline plowing and seeding:  Buckwheat, oats, millet, lupine, sunflower, and most likely some perennial grasses.
The seed mix came from Buffalo Brand Seed in Greeley, CO and is a custom mix for the area, one that will put nutrients into the soil while creating an abundant root system that will capture and retain the moisture that falls upon the ground there.  Keyline plowing creates little dimples in the soil, too, so that the rainfall is held in place and won't run off the land.  And our wonderful volunteers, who installed one rock dams, media lunas and other erosion control structures, helped to keep the water from the adjoining hills from gaining speed and rushing through the property.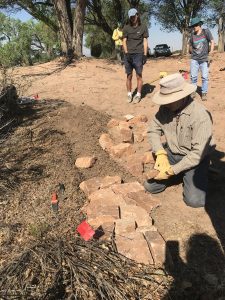 Bill Zeedyk stopped by, a famous land restoration expert, and said that the property's  little side wash that meets the arroyo was indeed a nice wetland in need of some restoration and drainage management, and that it could be restored once we take out the invasive elms and junipers and slow down the water running through it.  It is exciting to work on this landscape and share the knowledge with all of you so that, little by little, we can improve our landscapes to make them more resilient to the drought and heat.
Experiencing the land, learning how to care for it, this is what we hope to offer with this wonderful 300 acre property that we call the Conservation Homestead.  We are working toward a grand opening of the property in the Fall, so stay tuned for more updates.  And if you are interested in more experiential opportunities to get on the land and learn, read on.  I hope you will join us on an exciting Insider Tour with geologist Kirt Kempter on August 14th.
In gratitude,

Sarah Noss
Executive Director
Insider Tour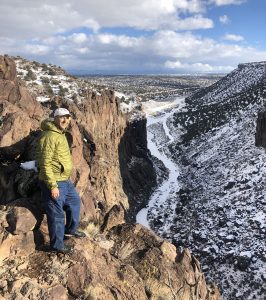 Join local geologist Kirt Kempter for a special geological tour of the Cerrillos – Garden of the Gods area.  The tour highlight will be a visit to the Simmons Ranch, which includes spectacular petrified trees eroding out of multi-colored sandstones of the Galisteo Formation.  Rock exposures along Highway 14 and Waldo Canyon Road will help tell a geologic story that begins with the Cretaceous Sea, the last ocean to cover northern New Mexico.  Younger rock formations tell the story of the rise of the Sangre de Cristo Mountains.  There will also be discussions on the volcanic history of the Ortiz and Cerrillos Hills volcanic centers, and how the geology of the Galisteo Basin impacts oil, gas, and water in the area.  A catered lunch will be provided by the highly-rated Black Bird Café in Cerrillos.  Participants should bring water and appropriate hiking gear (although we will not be hiking more than one mile).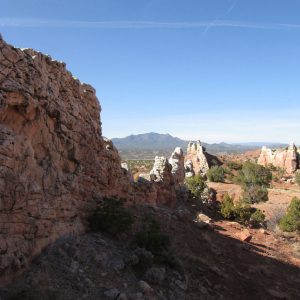 Insider Tour Details
Saturday, August 14, 2021
9 am.  Meet at the entrance to SFCC.
Hopefully, some carpooling will be arranged.
9:30 to 12.  Explore the Simmons Ranch and Cerrillos geology
12 to 1 pm.  Catered lunch by the Black Bird Saloon in Cerrillos
Cost:  $150 per person ($110 tax-deductible).  Limited to 20 people, so sign up now by emailing us at  and we will contact you in the order we get them.  Please include your phone number.

Save the Date for Our Next
Community Conservation Celebration
– Stand Up For Nature!
Tickets will be on sale soon for our biggest fundraiser of the year. This year's Community Conservation Celebration gives you many options for participation—in the comfort of your home or at the Violet Crown where you can watch the virtual event with other SFCT supporters.
Please mark your calendars for August 26th from 7:30 to 8:15 pm for all the fun and our crucial "text to give" fundraiser! Plus, there will be some pre-event festivities starting at 7 pm. This event is significant for a number of reasons.
It is a time to embrace community and Stand Up for Nature.
It is a time to celebrate our exceptional quality of life that SFCT has impacted by protecting our iconic landscape which creates a healthier environment for us all. Plus, there's those 75-miles of trails we've had a hand in developing!
Our annual Community Conservation Celebration traditionally provides a significant portion of our budget, and enables enhanced protection of local natural habitat, development and maintenance of our local trails, and community programs that inspire conservation values among kids and democratize access to nature for everyone!
An Access Pass to the event is only $5 if you want to watch it at home. Or you can deepen your support by buying a dinner or a wine package from one of our local restaurant sponsors for the evening. If you want to participate in person, buy a $75 ticket to the Violet Crown and enjoy some pizza and beverages and watch the show with other SFCT supporters. Whatever option you choose, be prepared to text in your support for the work of the Santa Fe Conservation Trust on Thursday, August 26th from 7:30 to 8:15 pm! Please save the date. Tickets on sale soon.

Banff Mountain Film Festival Tickets
ON SALE NOW!
Watch Banff on a HUGE screen while being outdoors yourself!
Enjoy NEW films from the Banff Centre Mountain World Tour
September 7th  BANFF TURQUOISE PROGRAM (8 films – 2 hr 22 min)
September 8th  BANFF CORAL PROGRAM (6 films – 2hr 25min)
Ticket are $18 per person per night.
Drive in opens at 5:45 pm, show starts at 7:45 pm.
Purchase tickets BEFORE AUGUST 16TH and you and your ticketed guests will be entered into a prize draw for:
The Running Hub ($200 gift certificate)
An Overnight at the Blake in Taos Ski Valley (2 to give away)
Meow Wolf (4 days passes to the House of Eternal Return)
Santa Fe Brewing Company ($100 gift card)
Fire & Hops ($100 gift card – 2 to give away)
One for Neptune & Friends Gift Baskets (Each Basket has $200 Sazon gift card / $50 Dolina gift card/ six packs of Neptune Jerky/ $25 Stargazer Kombucha gift card)
CLIF Package (chico bag, bamboo utensils, granola, fastening strap, and of course,12 CLIF Bars)
Outdoor Products 3.5 liter hydration packs (2 to give away)
Deuter (Banff Lite backpack)
Oboz Package (footwear care kit, bamboo utensils)
Buff  (custom edition Buff)
Katmandu (large anti-odor packing cell)
If you've never been to Motorama, now is the time to go!
A HUGE screen and room to set up a table and chairs (or hang in the bed of your vehicle/truck)
Gates open early to enjoy the scenery and have your pre-show party or picnic
Coolers, grills, food, drink allowed (no outside alcohol)
A portable transistor radio can be useful if you watch from outside your vehicle; otherwise, tune into the FM station in your car
Not only are the Banff films an exhilarating experience, but the Motorama drive-in experience adds to the fun!  Plus a portion of your ticket goes to support the work of SFCT, your local land trust.

Estate Planning
Did you know that more than half of American adults don't have a will?  It is never a bad time to start thinking about it.  Here is a handy guide for you to give you some ideas on how to proceed.  https://sfct.org/planned-giving/
SFCT depends on the generosity of the community to fund our work.  SFCT partners with our community to keep northern New Mexico's living lands and people flourishing together.  We protect environmentally significant landscapes, ignite people's passion for nature and enable the continual regeneration of our healthy place.  If you believe in our mission, please make a 
donation today!