1951 – 2021
There is no way that we could ever thank Bill enough for his contributions to the Santa Fe Conservation Trust: board member, trail advocate, and all around great guy.  We'll miss you Bill!
Please take a look at the article below, published in our 2017 Annual Report, which gives a small insight into Bill's many accomplishments and his work with us.
Board Profile: Bill Johnson
by Adam Vincent
In 2017, Bill Johnson finished an epic 18-year cumulative stint on SFCT's Board of Directors. He started in 1996, served 12 years during which time he served as SFCT's Board president, then took some time off and came back to the Board in 2011 for another six years, this time to lead the Trails Committee. Here's a look back at his time at SFCT.
When Bill Johnson became Santa Fe Conservation Trust's board president in 2000, he had some big shoes to fill. He followed in the footsteps of the legendary Stewart Udall, who served as its Board Chair from 1999-2000. Stewart Udall was a giant of conservation, serving as the Secretary of the Interior in both the Kennedy and Johnson administrations. "Stewart Udall, more than any other single person, was responsible for reviving the national commitment to conservation and environmental preservation," former Arizona governor Bruce Babbitt, who was President Bill Clinton's interior secretary, said in 2006. But for Bill, succeeding Udall as board president was a fitting transition, seeing as Udall was among Johnson's inspirations for protecting the planet.
"His classic book, The Quiet Crisis, which traces American environmental attitudes and practices, was one of my inspirations to become green," Johnson said in a recent interview.
While Udall and his conservation ethic were an inspiration, land preservation has always been in Bill's blood. When he was growing up in Maryland his family had a conservation easement on its land. "I grew up really appreciating open land that was home to a wide variety of wildlife and so many birds," he said. Bill organized his high school in a celebration of the first Earth Day in 1970, an event that took place in two thousand colleges and universities, roughly ten thousand primary and secondary schools, and hundreds of communities across the United States. More importantly, it "brought 20 million Americans out into the spring sunshine for peaceful demonstrations in favor of environmental reform," said Jack Lewis in his book, The Birth of the EPA.
Johnson moved to Santa Fe with his family in 1992, setting up his psychiatry practice and enjoying the outdoors on his mountain bike.
Stewart Udall and Dale Ball formed the Conservation Trust in 1993 partly in response to development that was threatening open space in the Santa Fe foothills. Chief among the threats was a proposed home being built high up Atalaya by a certain famous actress.
Bill met Dale Ball at a public hearing about the home where Bill was a speaker and afterward approached him to join the board. The rest, as they say, is history.
Not only did Bill join the Board and eventually become the Board president, he was the first head of the Trust's trails committee, an important step in the growth of the organization.
"The formation of the trails movement was one of the most gratifying things I did with the Trust over the years," he said. "Developing the trails not only helped preserve the land, but brought the public into the conservation process."
His work (along with many others, of course) helped turn Santa Fe into a world-class outdoor destination. Dale Ball Trails, La Tierra, Galisteo Basin, Spur Trail, Arroyo Hondo Open Space and more offer a massive variety of local trails that are well-built and easily accessible to outdoor enthusiasts.
Bill was involved in getting a conservation easement for the beautiful Arroyo Hondo Open Space, saving it from being developed into four large homesites. As a neighbor to the nearby open space himself, Bill urged the County to purchase the land at a reduced price from the landowner, Al Reed, who is a current SFCT Board member, and raised money to help purchase the property. Today, the Arroyo Hondo Open Space has about three miles of trails, big views, and is particularly popular with local dog walkers.
"The views are so stunning and this place has such an interesting history," he said. In 1912, construction on a dam began on the site to divert water to agricultural land to the south. A massive rainstorm, however, destroyed the unfinished dam, and the project was abandoned. But runoff still flows through the little valley in wetter years making this trail system a wonderful bird habitat.
Depending on the time of year and the amount of water in the arroyo, Bill said, it can be home to dozens of bird species: ravens, hawks, yellow rumped warblers, black phoebes, jays, robins, Townsend's solitaires, ducks and different species of bluebirds.
Since he retired from the board in 2017, Johnson enjoyed more time on his mountain bike and enjoying watching a new generation take on the mission of the Conservation Trust.
"The Trust is going to continue to have a major role in land preservation and trail building. Projects like GUSTO will ensure the Trust has a great future ahead of it."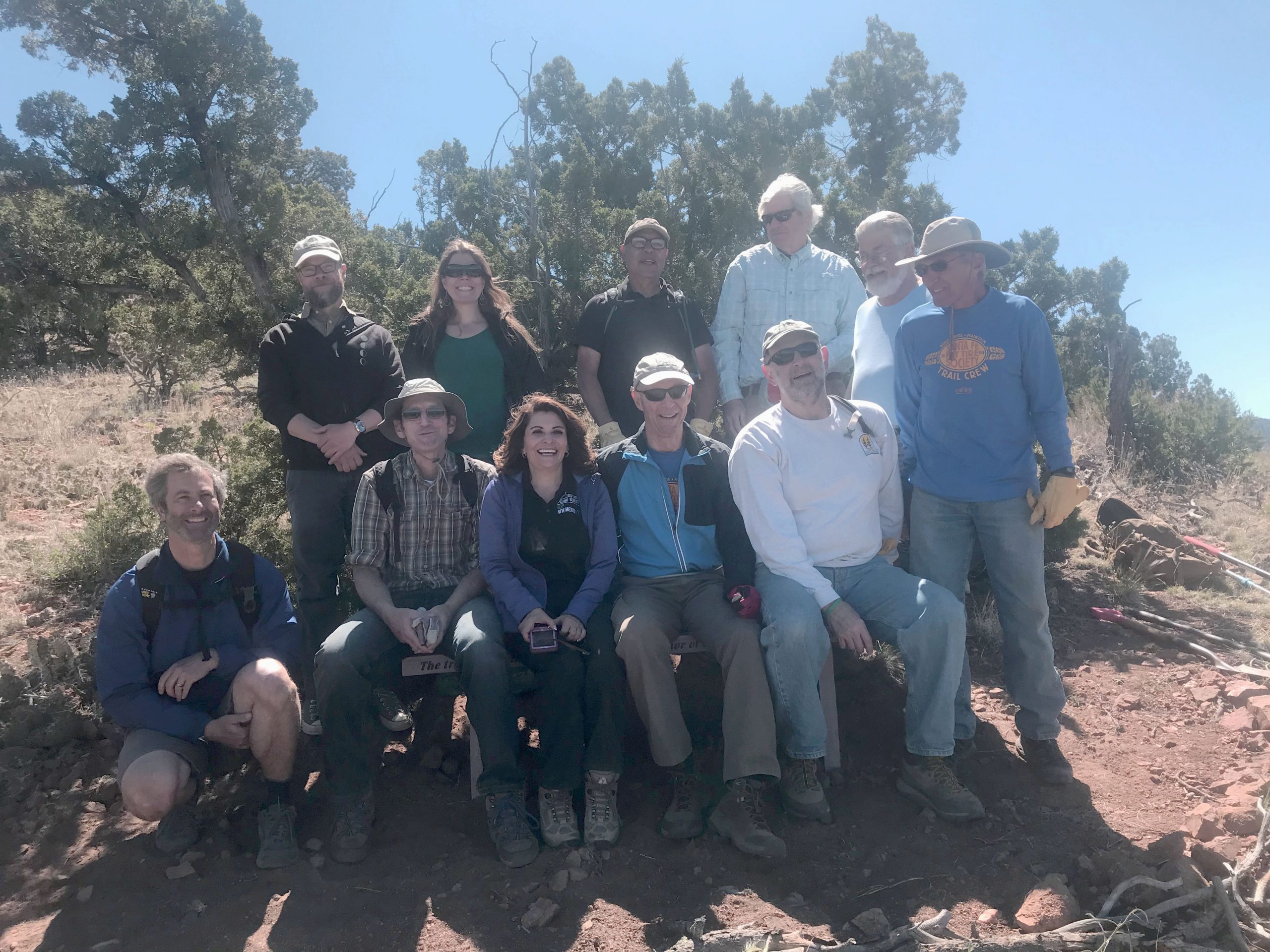 On May 29, 2019, we installed a recovery bench for Bill in the Arroyo Hondo Open Space, with the help of Bill himself and the great folks at the Trails Alliance of Santa Fe and the Fat Tire Society.
***
To make a donation in memory of Bill Johnson, please click the button below: