Last Chance for Comments on the Streetlight Conversion!
Over 5,500 streetlights are slated to be converted to LED lights, which is great as far as saving energy is concerned. But the temperature of the lights is still to be determined, which is why we are concerned. The City is proposing lights on the more blue/white end of the spectrum (3,000 and 4,000 kelvins), which cause more light pollution and can negatively impact humans, plants and wildlife. We feel that lower kelvin lights on the more amber side (2,200 kelvin in the residential areas and 2,700 kelvins on the main thoroughfares) will be better for ambience, the night sky, and the health of all living beings while still providing adequate lighting for safety. So right now is your last chance to let them know your thoughts. The City extended the comment period to May 24th (today), so please contact your city councilors and the mayor right now to let them know what you think. Here's how you can reach them: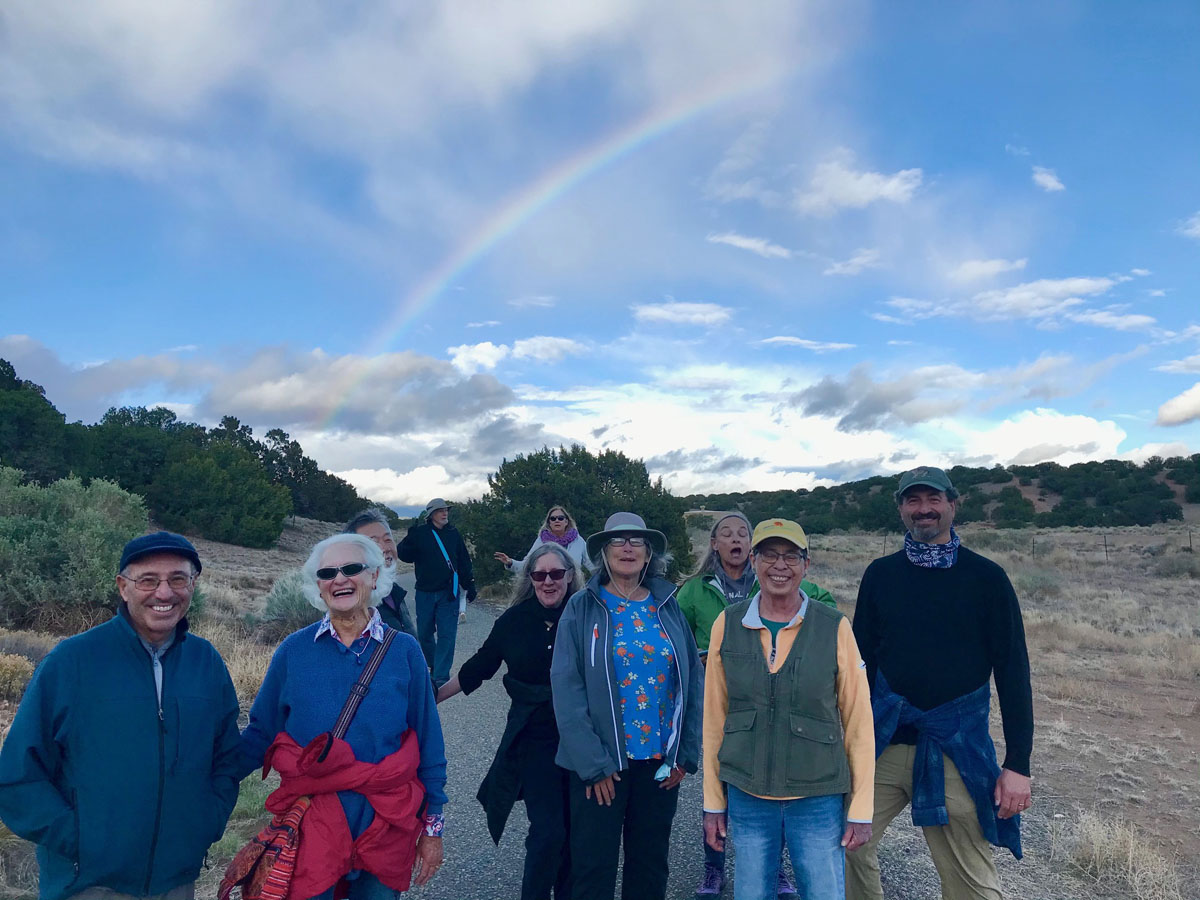 Vámonos kick-off walk on May 18, 2021
Come Walk With Us!
Our next Vámonos walk will be on Wednesday, May 26th at 5:30 pm starting at Larragoite Park just off West Alameda Street on Cristobal Colon.  From there we will walk to the Acequia Trail and head west to Ashbaugh Park and back.  The walk will last about an hour.  Come take a walk with us!
Vámonos is a series of 24 free, hour-long walks over a six month period from May through October.  The walks start after work, last about an hour, and will introduce you to some of Santa Fe's 30 miles of paved, ADA accessible trails around our parks.
We started Vámonos to make access to nature more equitable and inclusive in our town.  Lots of people don't like to walk alone.  Many don't know where the trails are and don't want to walk on busy streets.  Our elders, many of whom use walkers or wheelchairs, don't have as many opportunities to get outside.  People living on the south side of town don't know about the trail system on the north and east sides of town, and vice versa:  not a lot of us have walked the wonderful Arroyo Chamiso trail on the city's south side.  So Vámonos is your chance to get some fresh air, explore Santa Fe's trails and meet your community.
In addition to our after work walks, Vámonos also offers five free Saturday morning hikes.  The Saturday hikes usually last around two hours and will introduce you to many of our dirt trails around town, from the County rail trail, to the La Tierra Trails.  Bring your kids on a scavenger hunt on the Arroyo Hondo Open Space trails, and hike to a view on the Dale Ball North trails.  Have you wanted to get outside but weren't quite sure where to go?  Vámonos will show you where to go and you'll meet some nice people along the way.  We hope you'll join the 800 walkers who have participated in the free Vámonos walks since they started in 2018.  You can get the schedule at https://www.sfct.org/vamonos.

TEXT SFWALKS TO 833-243-6033 FOR WALK REMINDERS
SFCT depends on the generosity of the community to fund our work.  SFCT partners with our community to keep northern New Mexico's living lands and people flourishing together.  We protect environmentally significant landscapes, ignite people's passion for nature and enable the continual regeneration of our healthy place.  If you believe in our mission, please make a 
donation today!