Dear Friend,
We are more than halfway through summer now, and I find myself worrying about what we will do when we have to go inside again.  It will be harder to get together with my family, because being inside with closed windows, even if we social distance and mask, isn't such a safe idea.  I guess we just bundle up and brave the cold so we can be together more safely!  But then this concept of "la resolana" came to me.  We are so blessed when it comes to the winter in northern New Mexico because of "la resolana."  When I was a kid, the most famous resolana that I can remember was at the bottom of the ski hill at Taos, where this nut brown, super tan guy used to hang out in his Speedo in the middle of winter in his south-facing, protected sunny spot (resolana) by the chairlift.  This winter isn't going to be that bad as long as we have some resolanas in our lives.  This, along with the trails, gives me hope that we can make it through!
It's been a good week in the hope department.  We got to sit in the sunny spot of recognition this week when we learned we were voted the Best Nonprofit for the Environment by the people of Santa Fe and The Reporter!  Read all about it below.  Then, on Monday, I felt like a balm had been rubbed on my heart when I heard the conversation between Terry Tempest Williams and Senator Tom Udall that will be part of our virtual event on August 27th.  Writer and conservationist Terry Tempest Williams is so soulful and deep.  She and her longtime friend, Senator Tom Udall, talked about the challenges of our times and what gives them hope.  After you hear them talk, one thing is sure:  hope is contagious!
Knowing that, I would like to invite you to tune in to our virtual event.  It is going to uplift your heart!  And even though we can't be together physically at our virtual event, we will be in community, appreciating community, and working together to make our community better.  Because conservation, I truly believe, is part of the long term solution to the problems we are facing today.  And it adds so much to our lives right now by giving us open space, views, trails, healthy wildlife habitat, protected cultural sites and resilience to climate change. 
Read all about the event below, sign up and fill up your tank with some hope and inspiration while helping us continue our conservation and trails work.  Your $5 access pass is available at sfct.org/events/ccc-udall/.
Sincerely,

Sarah Noss
Executive Director

SAVE THE DATE!
Our
Stewart Udall Legacy
Community Conservation Celebration
goes virtual on August 27th!
Conservation isn't canceled! And neither is our annual Community Conservation Celebration.  This year, thanks to the coronavirus, you can stay home for our fundraiser and enjoy a lively online outing featuring stunning landscapes, fun from the trails, special guest appearances, pre-event festivities and a timely conversation between two renowned conservationists, 
Terry Tempest Williams and Senator Tom Udall


Please mark your calendars for August 27th from 7:30 to 8:15 pm for all the fun and our crucial paddle raise!  Plus, there will be some pre-event festivities starting at 7 pm. This event is significant for a number of reasons.
It is a time to embrace community and acknowledge that nature is essential for our wellbeing.
It is a time to celebrate our exceptional quality of life that SFCT has impacted by protecting our iconic landscape which creates a healthier environment for us all.  Plus, there's those 75-miles of trails we've had a hand in developing!
Our annual Community Conservation Celebration traditionally provides 20-25% of our budget, and enables enhanced protection of local natural habitat, development and maintenance of our local trails, and community programs that inspire conservation values among kids and democratize access to nature for everyone!
An 
Access Pass to the event is only $5
, or you can deepen your support by buying a dinner or a wine package from one of our local restaurant sponsors for the evening.  Whatever option you choose, be prepared to raise your paddle in support of the work of the Santa Fe Conservation Trust on Thursday, August 27th from 7:30 to 8:15 pm!  Ready to get going?  Sign up here:  
https://sfct.org/events/ccc-udall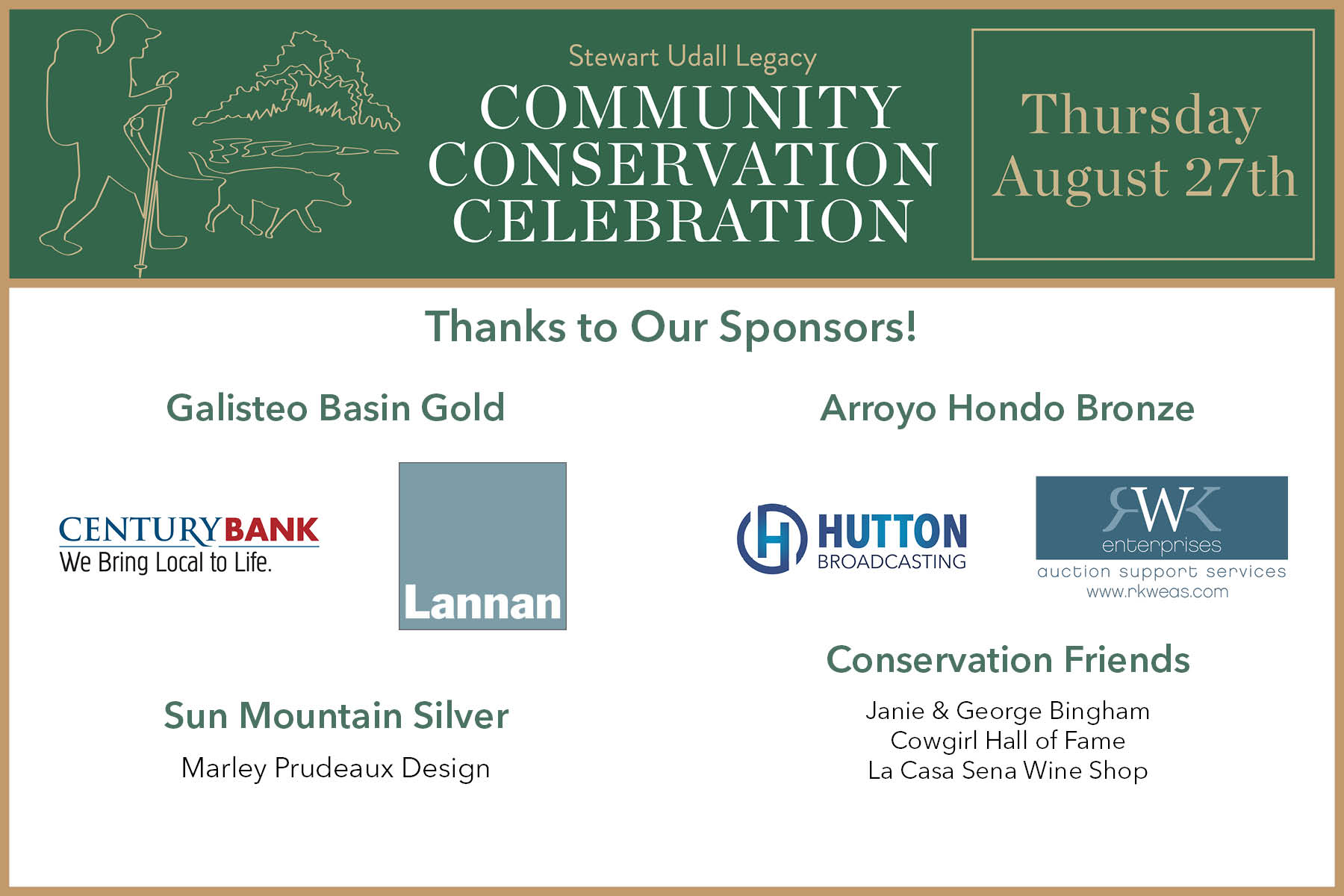 SFCT Voted Best of Santa Fe!
Thanks to all of you who voted to make SFCT the Best Nonprofit for the Environment!  We are truly honored by your support and appreciate your recognition of our work!  Today we have over 42,000 acres protected throughout northern New Mexico.  We have been involved in the creation of the Dale Ball Trails, Atalaya Trail, Sun Mountain Trail, Santa Fe Rail Trail, the Spur Trail, La Tierra Trails, Arroyo Hondo Open Space Trails, La Piedra Trail, Little Tesuque Trail, and – with the Commonweal Conservancy – the Galisteo Basin Preserve Trails.  The Santa Fe Conservation Trust currently coordinates trail maintenance for the City of Santa Fe, has adopted Santa Fe National Forest's Atalaya Trail, works with various "GUSTO" partners to plan and promote trail connections throughout the region, and preserves public trail access within many of our local conservation easements.  Plus, since 2014, we have been working to provide equitable access to nature through our community programs for kids, elders, the infirm, the immigrant community and those who just want to walk with others.  We couldn't do it without you, so thanks for showing your support in this way!
Don't Forget Your Refund!
If you bought tickets to the 2020 Banff Mountain Film Festival, please call The Lensic for a refund at (505) 988-1234.  The Lensic cannot donate the value of your ticket back to SFCT, so once you get a refund, if you want to donate the value back to us, you can do so here:

Or send a check to SFCT, PO Box 23985, Santa Fe, NM 87502.
Thank you for your support and see you next year!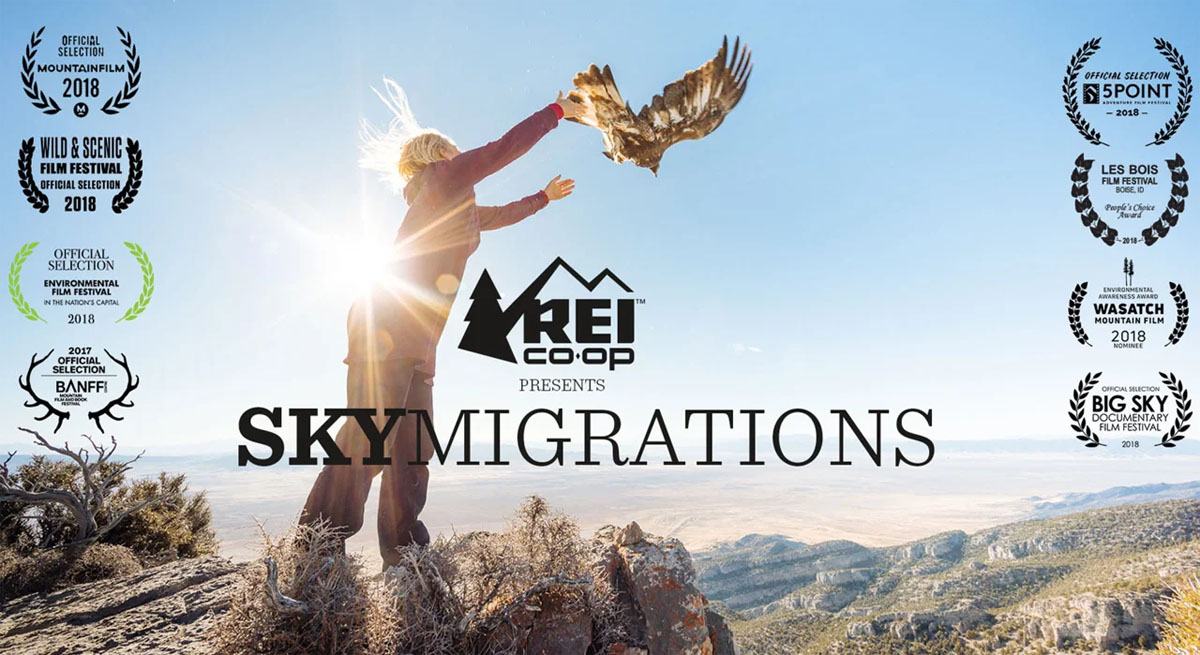 FROM THE BANFF MOUNTAIN FILM FESTIVAL
Have you noticed a lot of cooper's hawks around lately?  It reminds us of the film Sky Migrations that showed at the Banff Mountain Film Festival in 2018.  Each fall our skies fill with the wings of migrating raptors. This ancient migration spans two hemispheres, binding our backyards to the forests of the far north and the wildest corners of South America. A network of volunteers and biologists stand ready to document each pulse of the migration by collecting data that may arm us with the means to better understand the health and wellbeing of these wayward fliers and the landscapes that sustain them. Sky Migrations is a film about a journey that embeds us in this epic migration for a brief moment, telling the stories of those who, with eyes cast skyward, tuck themselves atop mountains to help ensure that October skies may continue to flood with raptors, and that wilderness itself lives on. (16 min.)
SKY MIGRATIONS
Thanks to this year's Banff sponsors!

New Charitable Giving Tax Deduction
One very positive outgrowth of the current situation is that the long quest for a "universal" charitable contribution deduction has finally been fulfilled.  Historically, a charitable contribution tax deduction has been available only to taxpayers who were willing to itemize their taxes. The CARES Act, however, changes that. Moving forward, even those of you who opt for the standard deduction in lieu of itemizing will be able to claim a charitable contribution deduction, up to $300. More information can be found here.
Also emerging as a result of the CARES Act for some of you is the $1,200 stimulus payment.  If you find that you can spare some portion of that, please consider contributing it to SFCT, and its continued pursuit of future, enriching conservation transactions. 
You too can play a role in leaving a legacy!

ESTATE PLANNING
Did you know that more than half of American adults don't have a will?  Experts are saying the pandemic is making people think more seriously about getting their affairs in order.  If you are one of them, here is a handy guide for you to help you start your thinking.
https://sfct.org/planned-giving/
---
SFCT depends on the generosity of the community to fund our work.  SFCT partners with our community to keep northern New Mexico's living lands and people flourishing together.  We protect environmentally significant landscapes, ignite people's passion for nature and enable the continual regeneration of our healthy place.  If you believe in our mission, please make a 
donation today!