I hope you had a great July 4th weekend.  I spent it up in Red River where the afternoon rain showers were plentiful.  At night I could hear the thunder coming down the valley from the east, and then the patter of rain soaking the parched forest.  These past two weeks have been such a blessing!  SFCT has been at work reseeding a property in the Galisteo Basin area.  We worked so hard to get the seeds in the ground to capitalize on the spring moisture, which, as you know, turned out to be non-existent.  And then we did some erosion control work at the property just in case we got a "frog-choker," those kinds of heavy downpours that dump a couple of inches of rain in a short period of time with moisture that runs through the landscape to the arroyo.  Thanks to 40 volunteers, some beautiful rock structures were built to slow and spread out the rain.  We did that work on 90 degree days in June, and then the weather broke and rain came to the land—soaking rains that will soon result in sprouted grasses, forbs and wildflowers.  We'll keep you updated as things progress.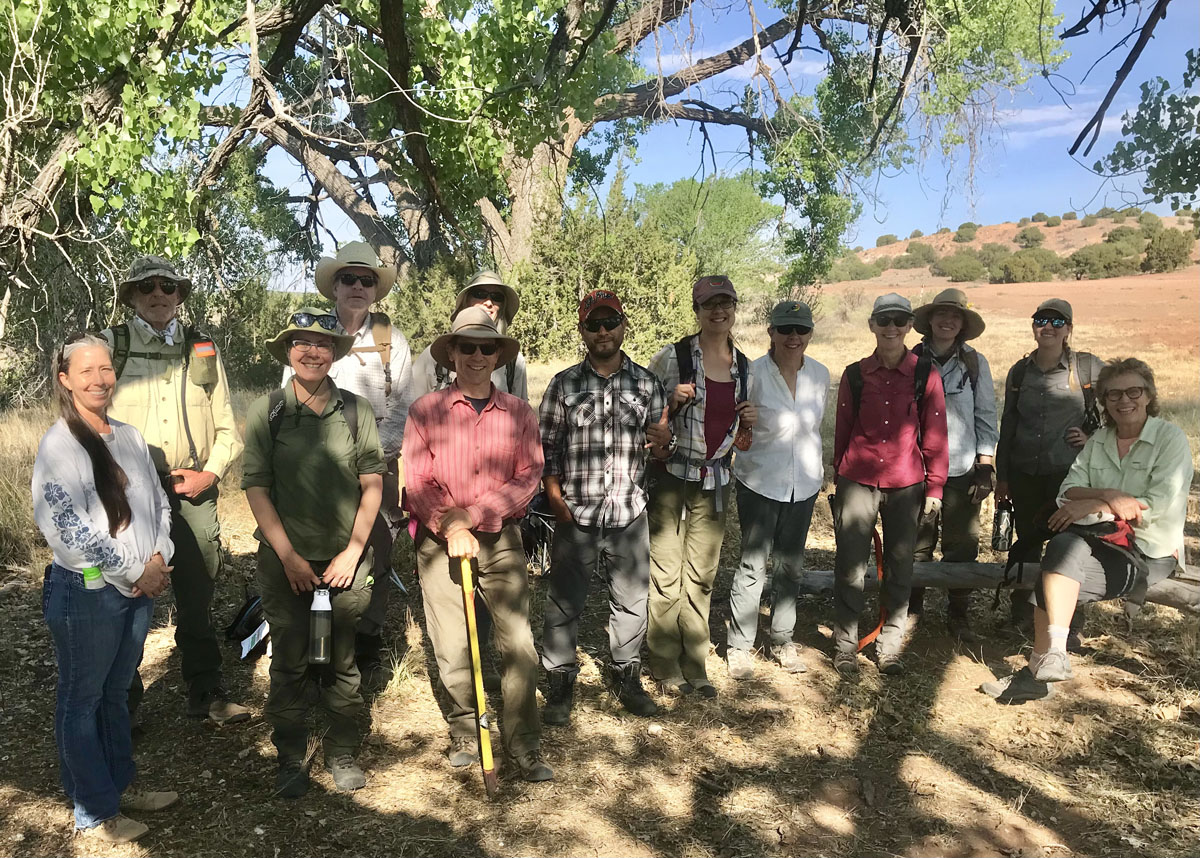 Intrepid erosion control volunteers.
Rain also came just days after SFCT bought a 614-acre property in the Apache Canyon on June 24th.  It felt auspicious to know that water was flowing down the Apache Creek again soon after it came into our possession.  We couldn't have purchased this property without the generosity of some donors who wanted to see SFCT own and protect an important part of the Galisteo Basin Watershed.  Rather than being developed, SFCT will put the land into a conservation easement, protecting this incredible wildlife corridor, bird sanctuary and waterway.  This acquisition is a huge step forward in our goal to connect and protect land in the Galisteo Basin Watershed, where SFCT already has more than 14,000  acres permanently preserved.
With one in five species in the U.S. at risk of extinction, biodiversity loss and the disruption of natural wildlife habitats are among the nation's greatest conservation challenges.  This 614-acre property is a step toward connecting habitats by protecting corridors in the Galisteo Basin watershed that enables species to migrate, access resources for survival, and better adapt to changing landscapes and climate. A new report from a biodiversity and climate change workshop co-sponsored by the Intergovernmental Science-Policy Platform on Biodiversity and Ecosystem Services (IPBES) and the Intergovernmental Panel on Climate Change (IPCC) calls for corridors as part of an integrated strategy to address both climate change and biodiversity loss.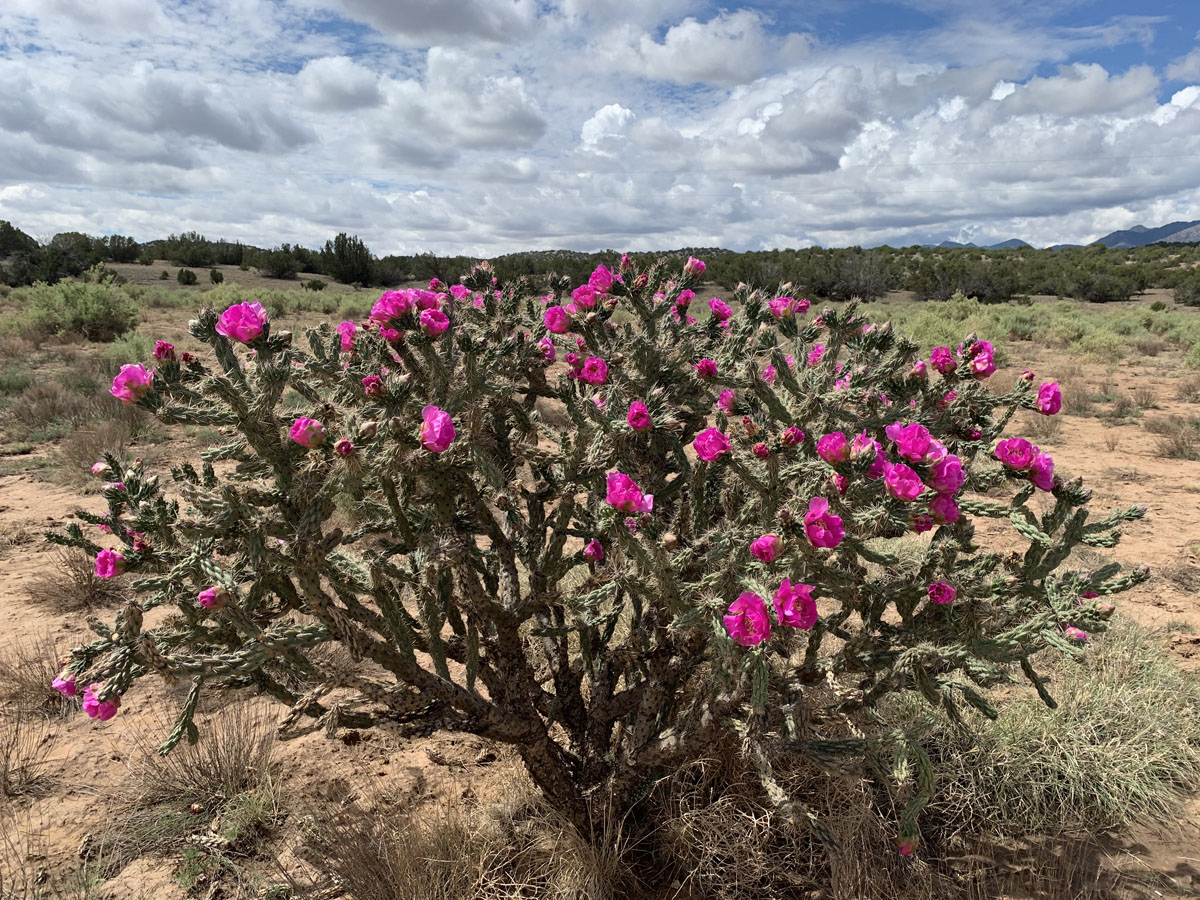 Blooming Cholla cactus on a conservation easement in the Galisteo Basin.
So, with gratitude for both the rains and the generosity of conservation minded donors, SFCT is making some huge strides in regenerating some land in the Galisteo Basin and protecting the watershed that feeds into it.  Please continue to support our work, as it benefits you today and future generations.
In gratitude,

Sarah Noss
Executive Director

Come Walk With Us in July!
VAMONOS, Santa Fe Walks enters July with four fabulous outings.  Please add them to your calendar and come try out a walk.  The in-town walks last about an hour, and that Saturday hike goes for about two hours.  All are free, and you'll learn about places to walk that you may not have known about and get to know some nice people!  Get your walking shoes on, bring your friends and family and come walk with us!
10 – Saturday @ 10 AM
Vámonos Hike
County Rail Trail at Rabbit Rd Trailhead,
Meet at 249-251 Rabbit Rd Santa Fe
(Easy hike on a dirt trail)
13 – Tuesday @ 6 PM
Take a Walk on the South Side
Southside Library to Arroyo Chamiso Trail
Meet at 6599 Jaguar Dr
21 – Wednesday @ 5:30 PM
Wellness Walk
Meet at Larragoite Park on Cristobal Colon to the Acequia Trail to Ashbaugh Park and back
30 – Friday @ 10 AM
Walk with our Elders
Bicentennial/Alto Park
Meet at 1121 Alto St
Need a reminder?
Text SFWALKS to 833-243-6033
to get a text reminder the day before each walk.
Get the full VAMONOS schedule at https://www.sfct.org/vamonos
Vámonos: Santa Fe Walks is organized by the Santa Fe Walking Collaborative, convened by the Santa Fe Conservation Trust.
Members include:


SAVE THE DATE  – 2021 Drive-in Banff
at Motorama Santa Fe
Watch Banff on a HUGE screen while being outdoors yourself!
NEW films from the Banff Centre Mountain World Tour 
September 7th  BANFF TURQUOISE PROGRAM (8 films)
September 8th  BANFF CORAL PROGRAM (6 films)
Check out the 2020/21 World Tour Teaser – Turquoise Program on our website.
If you've never been to Motorama, now is the time to go!
A gigantic screen and a bit of room in front of your car for chairs (or hang out in the bed of your vehicle/truck)
Gates open early to enjoy the scenery and have your pre-show party or picnic
Coolers, food, drink allowed (no outside alcohol)
A portable radio can be useful if you watch from outside your vehicle; otherwise tune in to the FM station in your car
Not only are Banff films exhilarating experiences, but the Motorama drive-in experience adds to the fun!
Buy tickets early and get your ideal space to watch. Early purchasers are entered into a prize draw for some hefty and amazing gifts from local and World Tour sponsors.
TICKETS ON SALE SOON – SPREAD THE WORD!
check our website or Facebook page
Banff Sponsorship Opportunities 2021
​
SFCT depends on the generosity of the community to fund our work.  SFCT partners with our community to keep northern New Mexico's living lands and people flourishing together.  We protect environmentally significant landscapes, ignite people's passion for nature and enable the continual regeneration of our healthy place.  If you believe in our mission, please make a 
donation today!