Well, it looks like this weekend the growing season will come to a close and maybe, just maybe, we'll get some precipitation.  I have to admit that I have been enjoying this part of climate change, which resulted in a longer, warmer Fall where my garden could flourish instead of wilt in the extreme heat we had this summer.  But after this weekend, it will be time to rest and go inside for some winter hibernation.  Of course, the coronavirus puts a pall on that reality.  So do the wildfires raging around us and my parched lips that remind me of the deepening drought we are in.  What to do?  Well, double down on wearing masks, social distancing, washing your hands, and, of course, don't forget to VOTE!  I haven't yet, and everyone says it'll make me feel so much better.  I plan to do so on Monday at the Convention Center.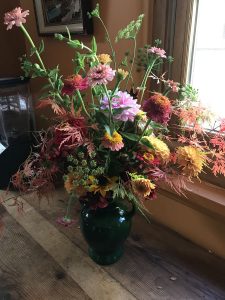 A donor named John McDermott wrote recently to advise me to cheer up and not be so gloomy in these e-blasts.  It is true!  We have the blessings of each day, each moment, to celebrate – like the flowers we harvested here at my house today that I have to admit are absolutely gorgeous.  Thank you nature!  And cooler weather suddenly makes some of the trails a lot more fun to be on, too.  In this e-blast we want to give you some ideas on good winter trails to explore.  And also we want to get you ready for some fun, online entertainment coming up that will make your winter hibernation more enjoyable.

Don't forget if you are feeling lonely or down, we are in this together.  Fill out our survey and let us know how you are doing.  We'll be in touch on Facebook when we are going on walks if you want to join us for some socially distanced fresh air. ("Like" us on Facebook to get those announcements.)  Together, let's make this winter one to remember.
Sincerely,

Sarah Noss
Executive Director
Winter Wonderlands
Some of you hardcore trail users may know this already, but there are many wonderful local trails that are actually more fun to use in the cooler weather.  Here's a list of them for you to explore.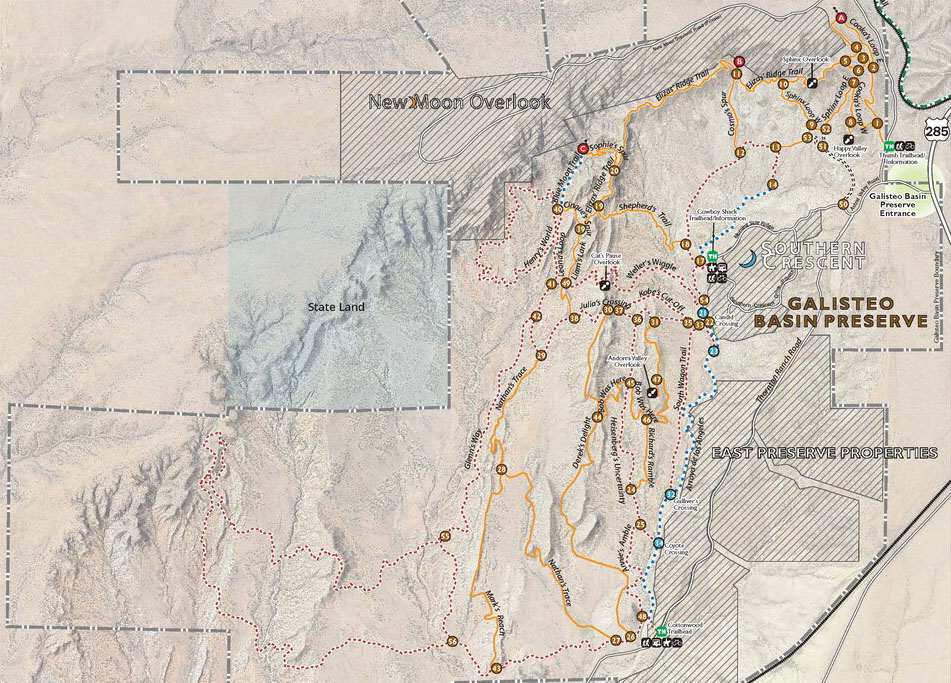 The Galisteo Basin Preserve Trail System
https://www.galisteobasinpreserve.com/trails created by our friends at the Commonweal Conservancy offer more than 35 miles of meandering trails for hikers, bikers and horseback riders.  These lower elevation trails near Lamy, NM are perfect for crisp Fall days and offer wonderful views and lots of sunshine.  NEW TRAILS!!  Brent Bonwell, Henry Lanman and others at the Santa Fe Fat Tire Society recently added about 5 miles of new trails to the system, just to the west of Glenn's Way, accessible from the Cottonwood Trailhead.  Check it out!
https://www.trailforks.com/trails/mike-s-mission/
SFCT protects a contiguous 5,050 acres of land in conservation easements donated by the Commonweal Conservancy.  These conservation easements ensure public access forever to these wonderful trails!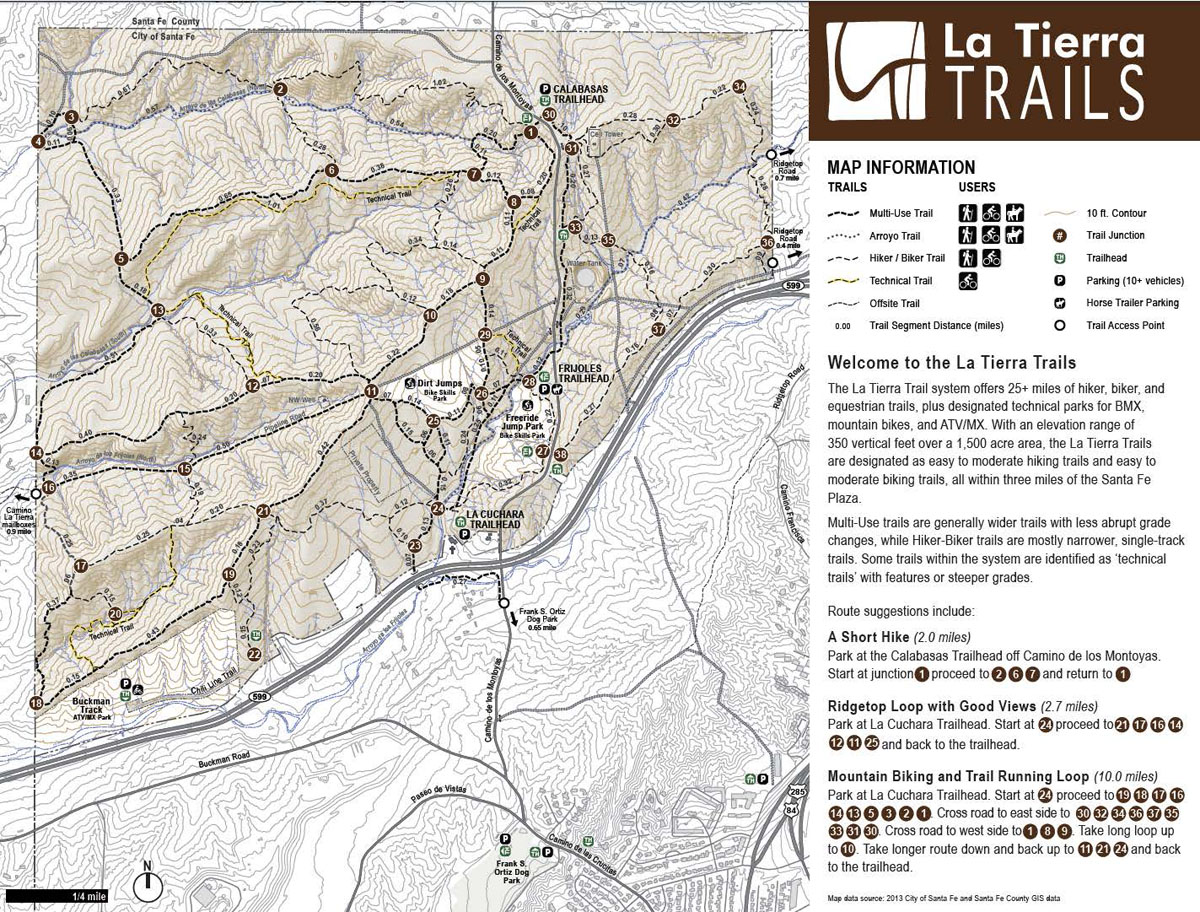 La Tierra Trails
Fall and Winter are the perfect time for walks at the La Tierra Trails located on the northwest side of town off the bypass on Camino de los Montoyas.  There are three trailheads with plenty of parking with access to over 25 miles of trails over 1,500 acres of pinon and juniper-studded landscape.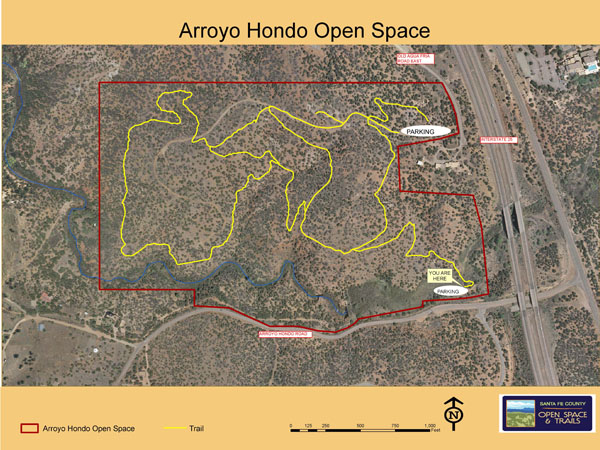 Arroyo Hondo Open Space
Feeling a little cooped up with the kids?  Take them on a Vámonos Scavenger Hunt at the Arroyo Hondo Open Space off of Old Agua Fria Road E.  This walk was one of our most popular Vámonos walks before the coronavirus hit.  So now you can do it on your own.  Slow down and look for the items listed just below the map.  How many can you find?
https://sfct.org/wp-content/uploads/2020/07/Vamonos-Arroyo-Hondo-Open-Space-Map-1.pdf
Other in-town Vámonos walks can be found here:  https://sfct.org/vamonos/  The south side walks are particularly nice in cooler weather.
The Santa Fe National Forest recently designated SFCT as the trail steward of the Atalaya Trail once again.  We've been overseeing its maintenance since the 1990s when Walter Ganz, a former SFCT Board Member, oversaw improvements on the trail to improve access to the forest from town.  It is a 4.4-mile hike with a 1,500 foot elevation gain, so nice to do in cooler weather as well.  You can park at St. John's College or off of Camino Cruz Blanca to access it.
https://santafecountynm.maps.arcgis.com/apps/MapSeries/index.html?appid=494e97891d524635936a5b9b759d7c63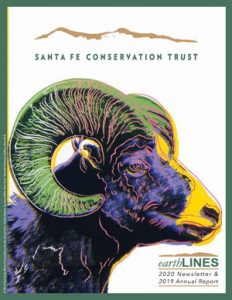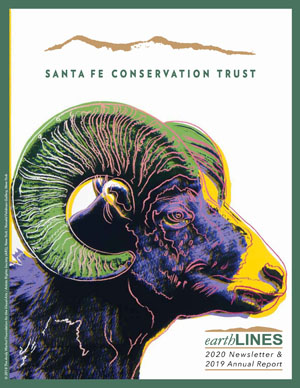 SFCT has a long legacy of trails development in and around Santa Fe.  Read more about it in our latest newsletter/annual report.
https://sfct.org/wp-content/uploads/2020/09/2019-SFCT-Annual-Report.pdf
Get Ready for Banff!
SFCT is sponsoring Banff again with the help of our wonderful sponsors listed below.  Just like our in-person shows at the Lensic, this year's outdoor film festival will offer you a night of exciting films online for $15, and part of the proceeds will come to SFCT to support our work.  It's all coming up very soon, so keep your eyes peeled for our exclusive link to the 20/21 Virtual Banff Mountain Film Festival.

SAVE THE DATE for SFCT's Author Chats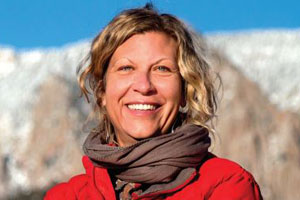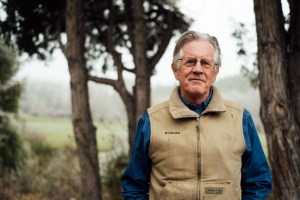 We are proud to bring together two distinguished environmental writers for an online discussion about climate change in New Mexico on December 9 at 6:30 pm.  Mark your calendars now for an enlightening evening with Laura Paskus, whose new book, At the Precipice: New Mexico's Changing Climate, was just published by UNM Press.  Leading the discussion will be Bill deBuys, author of A Great Aridness, Climate Change and the Future of the Southwest.  Bill was one of the founders of SFCT!  Read the books now and get ready for a fascinating evening.  More info to follow.  You can buy them from our longtime partner, Collected Works:  https://www.collectedworksbookstore.com/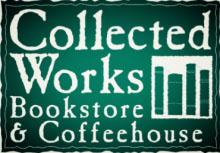 Tis the Season to Think About Giving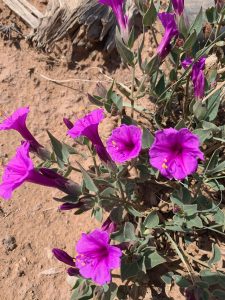 This may be a good year to make a gift of appreciated stock.  Contact us at  for stock transfer instructions from your brokered account.
Do you have a donor advised fund? Don't forget to direct a gift to SFCT this year!  Whether your fund is with an investment organization or a foundation such as the Santa Fe Community Foundation, please consider designating SFCT to support important trail and land conservation work. Thank you!
If you are 70 ½ or older, even though there is a one-time waiver from the withdrawal requirements from your IRA or 401(k) this year, we hope you will consider transferring funds directly for a charitable contribution to SFCT.