As you have probably noticed, the pandemic forced us in the planning stages last winter to hope and pray that the coronavirus would subside enough for us to host our events this Fall.  Everything looked pretty promising in late Spring, but then the delta variant came roaring in over the summer.  So we decided to cancel the in-person gathering at the Violet Crown for our Community Conservation Celebration and stuck to the virtual event format instead.  You can see the event HERE if you missed it.
Banff went off without a hitch at the Motorama drive-in last week.  It was a very successful "pandemic pivot" to keep this wonderful event going strong since we had to cancel it in 2020.  It was fun to see the hundreds of cars and picnickers in the field ready for some outdoor adventure films over two nights.  Thanks to all of you who participated, especially our sponsors who made it possible.
We have more events scheduled for September and October, and they will be outdoors, so please take a look below at two of them, and join us if you are vaccinated and are willing to wear a mask, especially when kids are participating.  We owe it to the kids to be very careful while showing them the wonders of nature.  Please come to one or all of these upcoming events and let nature inspire you and soothe your soul.
In gratitude,

Sarah Noss
Executive Director
PS:  Did you miss our virtual event last week?  You can see it on our website through the weekend.  Our total fundraising for this event exceeded our $100,000 goal.  Thank you to everyone who participated!

Vamonos Scavenger Hunt
Saturday, September 18
10 am to noon
Arroyo Hondo Open Space and Trails
Meet at Old Agua Fria Road E.
Come one, come all!  Bring your kids and grandkids.  This is an easy hike on some very scenic trails.  Our scavenger hunt looks for things in nature, and afterwards, we'll enjoy a paleta together.  It's a great way to slow down and take in the wonders of the natural world.
No charge, see you there! 
Star Gazing in the Galisteo Basin
Friday, October 1
6:00 pm – 10:00 pm
Join us for a celebration of our dark skies at a private home in the star-studded Galisteo Basin!  The evening will include dinner, catered by Cowgirl, beer/wine and lots of "lofty" conversation about the night sky.  Peter Lipscomb and other astronomers with telescopes will be there to show you the moon, planets and their moons, nebulae and stars.
$150 per person
NOTE:  Proof of vaccination is required.  Please wear a mask when not eating or drinking.  All activities will be outside.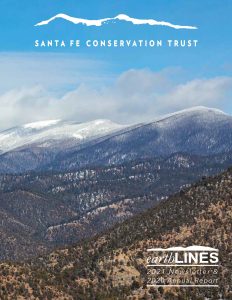 2021 Newsletter / 2020 Annual Report
SFCT's Newsletter is hot off the press!
Inside, learn about climate change action and our part in it, updates on our mission programs, and much more.
Click on the image or HERE to download the PDF.

Estate Planning
Did you know that more than half of American adults don't have a will?  It is never a bad time to start thinking about it.  Here is a handy guide for you to give you some ideas on how to proceed.  https://sfct.org/planned-giving/

SFCT depends on the generosity of the community to fund our work.  SFCT partners with our community to keep northern New Mexico's living lands and people flourishing together.  We protect environmentally significant landscapes, ignite people's passion for nature and enable the continual regeneration of our healthy place.  If you believe in our mission, please make a 
donation today!