Dear Friend,
Here we are in the midst of the coronavirus, and more and more people are talking about how the pandemic is starkly showing us that our health and wellbeing depend on the health and wellbeing of nature.  The coronavirus is zoonotic, which means it is an infectious disease that passes from wildlife to humans.  According to an article in Nature, almost 2/3 of all emerging diseases are zoonoses, and 71% of them started in wildlife.  Meanwhile, says the Center for American Progress, three-quarters of the earth's land area is now heavily altered by human use, and species are dying off at 1,000 times the natural rate.  In the US, we lose a football field's worth of open space every 30 seconds, and 1 in 5 native species are at risk of extinction.  So, it is no coincidence that the rise in zoonotic diseases has occurred alongside increasing human encroachment on nature and a rapidly changing climate.
Human populations cannot exist without a global environment that is healthy and capable of supporting life.  Biodiversity is the foundation for human health, but as humans encroach, we disrupt wildlife habitat.  Habitat fragmentation is thought to be the biggest threat to biodiversity.  Little by little, as small populations of wildlife or plants become isolated from all other populations of the same species, they risk inbreeding, disease and local extinction.  And some of these diseases, as we now are experiencing, can be passed to humans.  The economic costs of failing to protect biodiversity are huge, both in monetary and societal impact.   I think we are all starting to realize that maybe the vaccine for this latest iteration isn't going to solve our problems long term until we deepen our commitment to protecting nature and addressing climate change.
On the darker days, sometimes I feel like the world's problems are so overwhelming that I can't imagine being able to do anything to make a difference.  But I am a big believer in acting locally, because if everyone acted locally, eventually the entire world would be better at living in harmony with nature and addressing climate change.  So, I just wanted to thank you for supporting our work that focuses on protecting nature in Santa Fe, Rio Arriba and San Miguel counties.  We are beginning to implement our 10-year conservation plan to connect our patchwork of more than 100 conservation easements to create larger conservation corridors.  Larger conservation areas will preserve more uninterrupted plant and wildlife habitat, keep our water and air cleaner, protect our cultural sites, and, where possible, create more recreational opportunities for you.  So grab on to this local solution.  We can all make an impact, one step at a time, right here and now!  Keep the faith, don't give up and thank you again for your continuing support!
Sincerely,

Sarah Noss
Executive Director

SAVE THE DATE!
Our
Stewart Udall Legacy
Community Conservation Celebration
goes virtual on August 27th!
Conservation isn't canceled! And neither is our annual Community Conservation Celebration.  This year, thanks to the coronavirus, you can stay home for our fundraiser and enjoy a lively online outing featuring stunning landscapes, fun from the trails, special guest appearances, pre-event festivities and a timely conversation between two renowned conservationists, 
Terry Tempest Williams and Senator Tom Udall


Please mark your calendars for August 27th from 7:30 to 8:15 pm for all the fun and our crucial paddle raise!  Plus, there will be some pre-event festivities starting at 7 pm. This event is significant for a number of reasons.
It is a time to embrace community and acknowledge that nature is essential for our wellbeing.
It is a time to celebrate our exceptional quality of life that SFCT has impacted by protecting our iconic landscape which creates a healthier environment for us all.  Plus, there's those 75-miles of trails we've had a hand in developing!
Our annual Community Conservation Celebration traditionally provides 20-25% of our budget, and enables enhanced protection of local natural habitat, development and maintenance of our local trails, and community programs that inspire conservation values among kids and democratize access to nature for everyone!
An 
Access Pass to the event is only $5
, or you can deepen your support by buying a dinner or a wine package from one of our local restaurant sponsors for the evening.  Whatever option you choose, be prepared to raise your paddle in support of the work of the Santa Fe Conservation Trust on Thursday, August 27th from 7:30 to 8:15 pm!  Ready to get going?  Sign up here:  
https://sfct.org/events/ccc-udall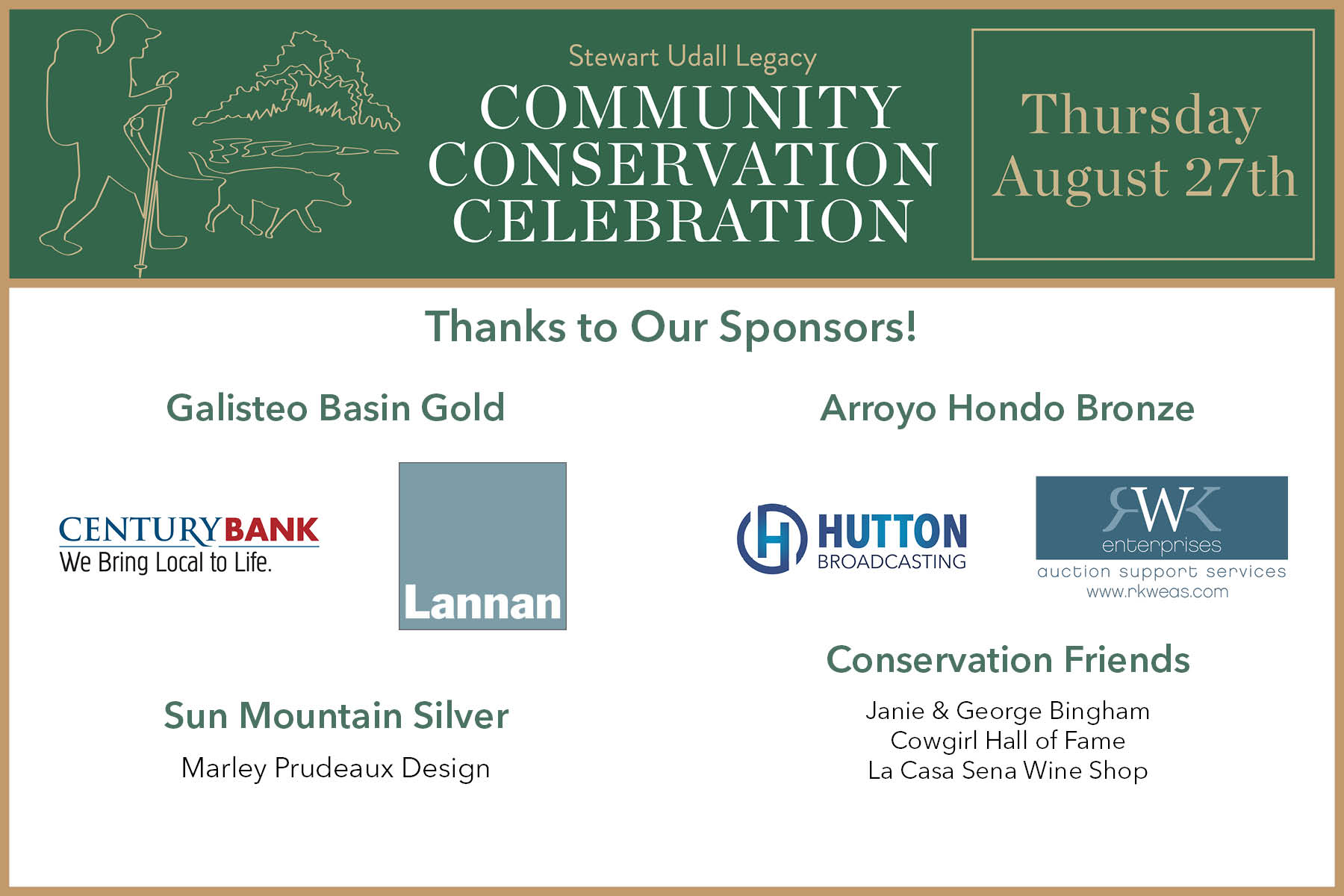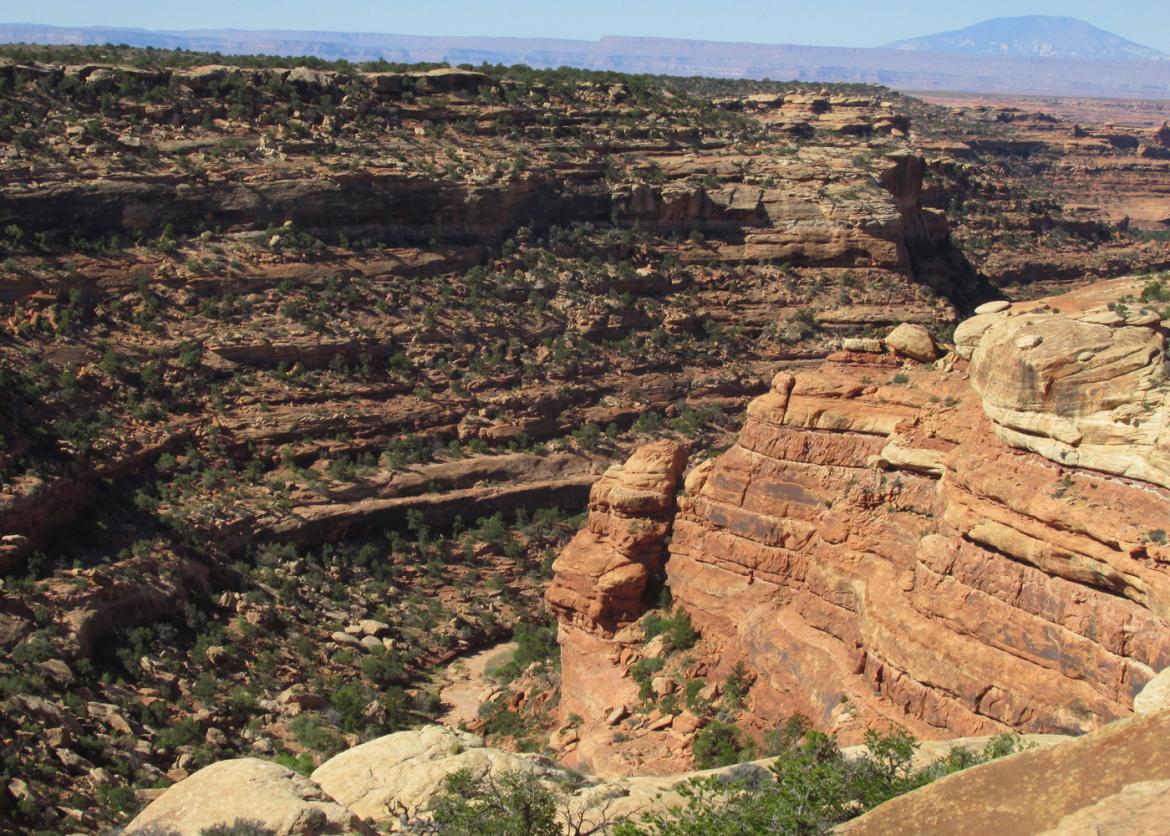 LET'S GO CAMPING!
One spot left—maybe for you?
Get ready for a five-night camping trip with four days of hikes and explorations at Cedar Mesa, part of Bears Ears National Monument in southeastern Utah!
Sunday, October 4 to Friday, October 9, 2020
Price:  $960         Deposit:  $200
($460 tax-deductible)
Led by our experienced guide, Linda Siegle, you'll be amazed at the prolific rock art that scales the canyon walls. We'll hike through the Southwest's most colorful canyons to find hidden ruins. During the evenings, see the Milky Way blazing a trail across a night sky that the ancestors of this ancient place revered.
It's a wonderful opportunity to take pictures, explore a magnificent setting and learn the stories told by the land.
Delicious meals are provided by the leaders and prepared by all.
Depending on the pandemic, drive yourself or if we can, van transportation from Santa Fe will be included and also provided from the campground to all the trailheads.
Limited to ten people.  Nine people signed up so far!   Get all the details here:
2020 Banff Mountain Film Festival Canceled
As the number of coronavirus infections continues to rise in New Mexico and Santa Fe, we had to officially cancel the Banff Mountain Film Festival.  We had rescheduled it for September, but it is clear that two nights of full houses at The Lensic are just not safe at this time.
If you bought tickets to Banff, please call The Lensic for a refund at (505) 988-1234.  The Lensic cannot donate the value of your ticket back to SFCT, so once you get a refund, if you want to donate the value back to us, you can do so here:
Or send a check to SFCT, PO Box 23985, Santa Fe, NM 87502.
Thank you for your support and see you next year!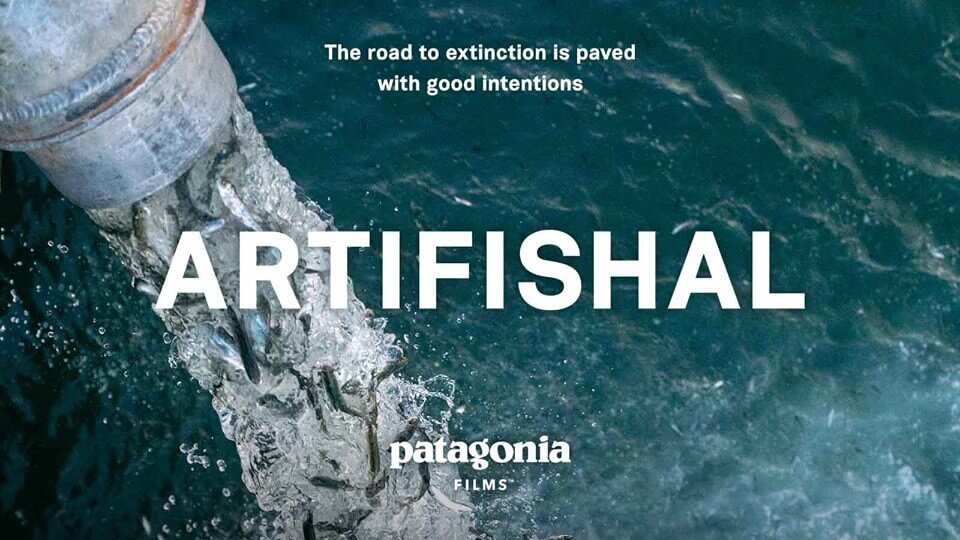 FROM THE BANFF MOUNTAIN FILM FESTIVAL
Artifishal is a full length film that explores wild salmon's slide towards extinction, threats posed by hatcheries and fish farms, and how human hubris has created the problem.  The solution is easy, though. Let nature be nature!
(1 hour, 20 minutes)
ARTIFISHAL
https://www.youtube.com/watch?v=XdNJ0JAwT7I
Thanks to this year's Banff sponsors!

New Charitable Giving Tax Deduction
One very positive outgrowth of the current situation is that the long quest for a "universal" charitable contribution deduction has finally been fulfilled.  Historically, a charitable contribution tax deduction has been available only to taxpayers who were willing to itemize their taxes. The CARES Act, however, changes that. Moving forward, even those of you who opt for the standard deduction in lieu of itemizing will be able to claim a charitable contribution deduction, up to $300. More information can be found here.
Also emerging as a result of the CARES Act for some of you is the $1,200 stimulus payment.  If you find that you can spare some portion of that, please consider contributing it to SFCT, and its continued pursuit of future, enriching conservation transactions. 
You too can play a role in leaving a legacy!

ESTATE PLANNING
Did you know that more than half of American adults don't have a will?  Experts are saying the pandemic is making people think more seriously about getting their affairs in order.  If you are one of them, here is a handy guide for you to help you start your thinking.
https://sfct.org/planned-giving/
SFCT depends on the generosity of the community to fund our work.  SFCT partners with our community to keep northern New Mexico's living lands and people flourishing together.  We protect environmentally significant landscapes, ignite people's passion for nature and enable the continual regeneration of our healthy place.  If you believe in our mission, please make a 
donation today!